Hurricane Matthew Stalks Florida Coast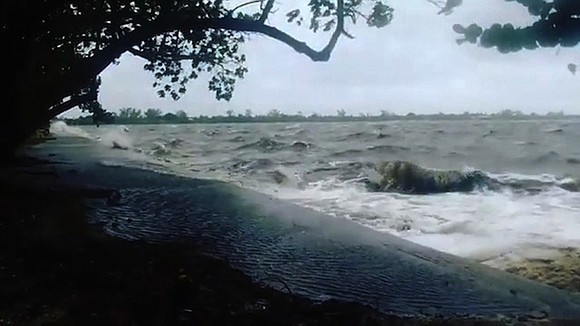 By Catherine E. Shoichet, Madison Park and Steve Almasy
CNN
(CNN) -- Historic Hurricane Matthew stalked Florida's east coast early Friday, teetering parallel to the peninsula.
Matthew's eyewall was brushing Cape Canaveral, while packing 100 miles per hour winds, according to the National Hurricane Center at 6 a.m. ET. It had not made landfall.
Weather experts were watching for the slightest change in Matthew's unpredictable path, which they say could make an enormous difference to the hurricane's impact on land.
"The exact path is so critical," said CNN meteorologist Derek Van Dam. "Miles and kilometers really count, because if it wobbles westward by say 30 miles, it brings those strong winds onshore."
The biggest questions remained: Will it make landfall? If so, where?
Overnight Matthew weakened from a Category 4 to a Category 3, but the hurricane still was dumping heavy rains and battering beachfront communities with powerful, howling winds. It had taken out power for more than 300,000 Floridians.
The downpour, storm surge and extreme winds are expected to hit central and northern sections of the Florida coast throughout Friday, according to the hurricane center.
Here's what you need to know:
• Matthew is a Category 3 storm with winds of 120 mph, according to the latest National Hurricane Center advisory. As of 6 a.m. ET, Matthew was about 25 miles east of Cape Canaveral, Florida.
• Based on the latest projections, Matthew could make landfall in Florida as a Category 3 storm, or it could skirt the coast and head north before possibly heading back toward land.
• Forecasters predict storm surge in some areas could be as high as 11 feet and as many as 15 inches of rain could fall.
• The National Weather Service warned that some places hit by Matthew could be uninhabitable for "weeks or months." The effects of the storm will be unlike any hurricane in decades, it said.
• The storm has killed at least 269 people in three Caribbean countries. The majority, 264 people, died in Haiti, said Civil Protection Service spokesman Joseph Edgard Celestin.
Florida Gov. Rick Scott, who spent the better part of the past three days warning residents to evacuate ahead of the hurricane, told them that the storm is a "monster."
Many left coastal areas, but many stayed, anxious to see how their area would stand up to the storm.
Florida braces for direct hit
Scott told those on the state's Atlantic coast that the question is not whether they will lose power, but for how long.
A direct hit by Matthew, he said, could lead to "massive destruction" on a level unseen since Hurricane Andrew in 1992. Voluntary and mandatory evacuations in the state stretch from Miami to the Florida-Georgia border.
At least two counties were under curfew until 7 a.m. Saturday, officials announced. Orange and Volusia Counties on Thursday night instituted mandatory curfews. The curfews include Orlando and Daytona Beach.
Airline passengers were urged to call before leaving for the airport. Florida airports had canceled hundreds of flights, most of them in Miami, Fort Lauderdale and Orlando. Fort Lauderdale closed its airport, airlines suspended operations in Miami, and Orlando's airport closed Thursday evening.