Hurricane Matthew's Wrath: By the Numbers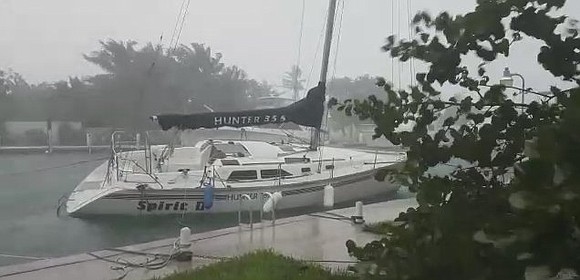 By Holly Yan
CNN
(CNN) -- Even for a region accustomed to hurricanes, this storm has spawned a new level of fear.
Hurricane Matthew has already killed hundreds of people across the Caribbean and threatens to flatten homes from Florida to the Carolinas.
"This is about as bad as it gets," National Hurricane Center Director Rick Knabb said.
So how bad is Matthew? Here's a look, by the numbers:
269: Deaths caused by Matthew
Hurricane Matthew is the worst humanitarian disaster to strike Haiti since the 2010 earthquake, which killed more than 200,000 people, a United Nations representative in Haiti said.
Matthew killed at least 264 people in Haiti, where tens of thousands still live in makeshift homes after the earthquake.
Adding to the humanitarian crisis: National Route 2, which connects Port-au-Prince with Haiti's devastated southern peninsula, broke apart when a bridge collapsed -- severely hampering relief efforts.
Matthew also killed four people in the Dominican Republic and a teenage boy in St. Vincent and the Grenadines.
145 mph: Expected wind strength upon US landfall
By the time Matthew makes landfall in the US -- possibly early Friday on Florida's east coast -- it'll likely be a Category 4 hurricane, blasting 145-mph winds, forecasters said.
"This can be a devastating hurricane from both wind and water," Knabb said, "and that's why you have to take it seriously to stay alive."
2 million+: Number of people urged to evacuate
The mandatory evacuations are the largest since Hurricane Sandy, which pummeled the US East Coast in 2012 and killed at least 147 people in North America.
About 1.5 million Floridians are in the evacuation zone. South Carolina has ordered hundreds of thousands to leave the coastal areas. And on Thursday, Georgia ordered about 500,000 residents in six coastal counties to leave.
Even the 14,000 residents of the oldest city in the US -- St. Augustine, Florida -- have been told to evacuate.
11 million: Floridians under hurricane warning
At least 11 million Florida residents were under a hurricane warning Wednesday.
"If you need to evacuate and you haven't, evacuate. This storm will kill you," Gov. Rick Scott said Thursday. "Time is running out."
300,000+: Customers without power in Florida
As of early Friday morning, more than 300,000 customers were without power across Florida.
~3,800: Flights canceled
As of Friday morning, about 3,800 flights have been canceled as Matthew approaches the southeastern US. That number could rise as the hurricane continues thrashing the coast.
CNN's Deborah Bloom and Carma Hassan contributed to this report.