The William A. Lawson Institute Hosts Largest Fundraiser in the Organization's History with Influential Local Leaders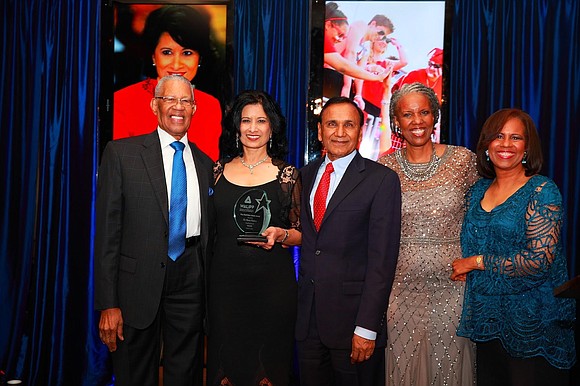 Houston, TX, October 7, 2016 – On Saturday, October 1, The William A. Lawson Institute for Peace and Prosperity (WALIPP) hosted "The Real Role Models" Gala, honoring leaders in education, philanthropy and business. Held at the University of Houston Hilton Hotel, the event was marked as the organization's largest single-event fundraiser, with more than $200,000 raised to support their mission and the expansion of The Lawson Academy in Houston's 3rd Ward community.
Attended by more than 300 guests, the event featured live, interactive student demonstrations of the year-round programming at WALIPP such as robotics, music, math and more. In addition, guests were able to get an up-close look at the architectural model of the new Lawson Academy which will span more than 5 acres, allowing the organization to serve even more children. Melanie Lawson of ABC 13 was the emcee for the evening, and Philanthropist Philamena Baird and Financial Advisor Paula S. Sutton joined as the co-chairs.
The event was produced by WALIPP Executive Director Cheryl Lawson and Karen Lee of karen lee & company with the support of WALIPP staff and volunteers.
Founder of WALIPP, Reverend William A. Lawson was honored and presented with an award for his legacy and many contributions to the Houston educational, philanthropic, civil rights and religious communities over the course of more than 60 years. During his award acceptance speech, he thanked his late wife, and co-founder of WALIPP, Audrey Lawson for her vision of providing a safe place where young men could have the opportunity to excel academically.
Honorees included: Dr. Renu Khator, Chancellor of the University of Houston System and President of the University of Houston, Reverend Dr. Marcus D. Cosby, Senior Pastor of Wheeler Avenue Baptist Church and Algenita Scott Davis, Government and Community Affairs Officer at Central Houston.
Special guests included: Congresswoman Sheila Jackson Lee, Congressman Al Green, City Council Member Dwight Boykins, Judge Ed Emmett, City Controller Chris Brown, Ambassador Arthur Schechter, Regina Rogers, Wayne Luckett, Dr Elwyn Lee, Catherine Mosbacher, Dr. Kathy Flanagan, Rabbi Sam Karff, Ken Gayle and Evin Thayer.
About WALIPP: Celebrating 20 years, WALIPP is a non-profit organization that was created to extend the work of Rev. William A. Lawson, who had provided passionate leadership through service and sacrifice as founding pastor of Wheeler Avenue Baptist Church for more than 40 years. WALIPP continues Rev. Lawson's community engagement to bridge the gap between the powerful and the powerless.
Learn more about The William A. Lawson Institute for Peace and Prosperity at www.walipp.org