Rebecca Lewis, Abducted Saturday, Found in Memphis After Manhunt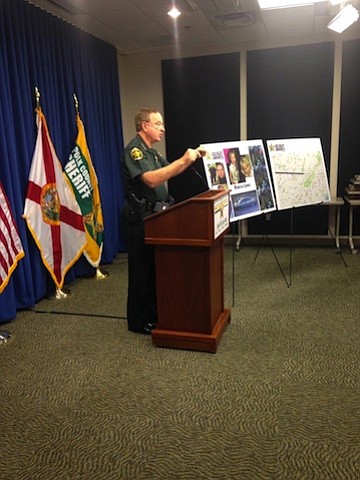 By Eliott C. McLaughlin
CNN
(CNN) -- Rebecca Lewis, a 4-year-old whose Saturday abduction from her Lakeland, Florida, home set off Amber Alerts in five states, has been found and is safe, according to a Monday tweet from the Tennessee Bureau of Investigation.
Her suspected kidnapper, West Wild Hogs, is in custody, the TBI said.
Hogs was captured after an employee of Baptist Memorial Hospital in Memphis, Tennessee, called security to say Hogs was at the hospital, Memphis Police Department spokeswoman Lt. Karen Randolph told reporters. She did not know why Hogs visited the medical center, she said.
Police pulled over Hogs in the hospital's parking lot, she said. Hogs was arrested without incident.
"It doesn't seem that she has any apparent injuries," but paramedics are examining her to be sure, Randolph said.
Earlier, Polk County Sheriff Grady Judd held a news conference in Florida in which he warned that Hogs was a truck driver by trade and feels "very comfortable on highways. He was seen in Nashville around 2:30 a.m. Monday, the sheriff said.
His family has told investigators that he suffers from depression and bipolar disorder, said Donna Wood, spokeswoman for the Polk County (Florida) Sheriff's Office.
Though Judd told reporters that Hogs has no criminal history and does not seem violent, he also said Hogs had previously lived with the Lewis family, when Rebecca was an infant, but he pulled a gun on the family "so the mama ran him off."
Did Tennessee drop ball?
It was far from the only bizarre piece of information provided at the Monday news conference. Judd suggested Hogs might already be in custody if Tennessee authorities had issued an Amber Alert earlier.
Late Sunday night, a ranger encountered Hogs and the girl at Cove Lake State Park in Caryville, Tennessee, about 20 miles south of the Kentucky border, Judd said.
Hogs told the ranger he was waiting on Rebecca's mother, the ranger told him the park was closed and Hogs left, the sheriff said. Only later did the ranger see a bulletin and realize that he'd spoken to Hogs, Judd said.
Tennessee declined to issue an Amber Alert, Judd said, because there was no evidence the girl was in Tennessee.
"Here's a news flash, Tennessee: He was there," the sheriff said.
TBI spokesman Josh DeVine told CNN on Monday morning that the bureau would respond, but there were "some potential developments in the case that've taken precedence for the time being."
According to the Justice Department's federal guidelines, Amber Alerts should be issued when authorities have a "reasonable belief" a child younger than 18 has been abducted and is in danger of bodily harm or death.
To issue activations without "significant information" indicating an abduction has occurred would be problematic, the Justice Department says, but "at the same time, each case must be appraised on its own merits and a judgment call made quickly. Law enforcement must understand that a 'best judgment' approach, based on the evidence, is appropriate and necessary."