All Roads Lead to Sonoma County Grape Camp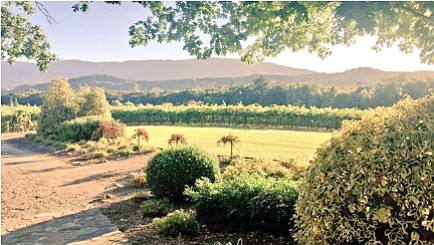 Sonoma Wine County is where the passion roams free with the Pacific Coast, Russian River, Redwoods, Valley's and Vineyards. Be prepared to situate your palate and indulge in wine tasting by regions; tour vineyards, barrel rooms, and wine caves; and savor delicious food-and-wine pairings. Visiting Sonoma County during grape harvest in late summer and early fall is a perfect time to connect with the rolling hills and mountain plains that make up the California Wine County area (bigger than New Jersey), the fabulous food, the agricultural life, and the passionate professionalism of its grape farmers and winemakers.
To meet the people who make the wine that we oh-so-love to enjoy, Houston Style Magazine joined three journalists and about 35 people from around the United States and Canada at Sonoma County Grape Camp for three days of enthrallment in winery touring, grape harvesting, cooking, wine pairing and blending. And of course, tasting: We had the opportunity to sample around 75 sauvignon blancs, merlots, pinot noirs, zinfandels, chardonnays, cabernets and more.
During #SCGrapeCamp visitors can experience everything from harvesting in the fields, fermenting sessions in wineries to hands on experience with winemaking and first class dinners. To celebrate the 10th year anniversary of Sonoma County Grape Camp, this annual three-day event was extended an extra day offering unique chances to get up close and personal in Sonoma County at its most exciting time of year. Honestly, we do not think there is another "Adult Camp" that compares to the fun and excitement of Sonoma County Grape Camp!
About Sonoma County:
Located just 45 miles north of San Francisco, Sonoma County welcomes the adventurous, curious, and lovers for the best of Northern California. The largest producer of California's Wine Country region, Sonoma County has 17 approved American Viticultural Areas (AVAs) and over 425 wineries. Fresh foods, stunning natural beauty, and world-class wines are what you will experience, to say the least. Nearly half of all Sonoma County vineyards are smaller acres, and 85 percent of Sonoma wineries are family owned and operated. Besides the obvious: wine, Sonoma County is 3 hours from Lake Tahoe, 35 minutes from Napa Valley, 30 minutes from the Pacific Coast and offers a slew of Resorts and Spas.
Welcome To Grape Camp!
"I googled Adult Camps, came across this one, and I was set." "We've been trying to come to Grape Camp since 2014, so once we got an open spot, we had to secure it ASAP!" "This is my third time at Grape Camp so I figured I'd bring my Kansas Group along!" During the Welcoming Reception at Vintners Inn Provence Terrace, campers started by introducing themselves and how they chose Sonoma County Grape Camp. Whether it was a surprise anniversary trip from a spouse, a best friend's getaway, a first timers experience — wine connoisseurs and new coming came for many different reasons. Campers can easily find their passion for wines, teas, and nature while being centered in the action during harvest season. With everyone quickly taking interest in each other either over wine or just meeting new friends, camaraderie comes quickly.
Grape Farming and Harvest!
You walk down the aisle at a store, stand back, carefully review the options and make your selection of wine. You make it home, pour your glass, sit back and relax. During that time, how often have you asked yourself what is the process of creating this perfect blend? Sonoma County Grape Camp will leave you with all questions answered! Campers get a first-hand glimpse of what it is like to be a Grape Famer. With early morning call times, dress in layers (it tends to be chilly in the AM hours), grab your gloves and clippers and be prepared to harvest! Before you know it, you are walking down vineyard rows, with a bucket and rhythm – clipping away at the vines and grabbing your best cluster. We suggest having your favorite playlist playing while harvesting; it makes for an energetic morning!
Fruits of Your Labor!
When was the last time you harvested your own wine? After harvesting comes sorting, destemming, crushing/pressing, fermentation, clarification, aging and bottling. While going through those steps, grab a glass and enjoy the fruits of your own labor by sipping on wine from the very same vines and vineyards you just picked from. It creates a well-rounded circle effect leaving the campers well educated and with a new outlook and respect for the farmers.
Every Year is a Different Year!
The great thing about Sonoma County Grape Camp is every year is different. With so many wineries and things to do, one campers experience may be completely different from last year's campers. While Sonoma County is known around the world as a top wine, vineyard, and coastal destination, you are not required to only taste wines, tour vineyards, or explore more than 50 miles of Pacific Coastline (though, that does not sound too bad). One year, campers may Harvest Lunch and Hike, the next, they're in cellars and traveling to the coast. Either way, each year the itinerary is secretly held until everyone arrives, making the reveal a thrill!