The Galleria Announces Additional Leasing Success
New Retailers Revealed for Newly Transformed Wing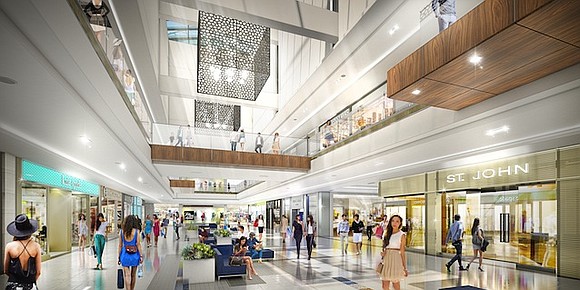 HOUSTON, TX, October 18, 2016 – Simon (NYSE:SPG), a leading global retail real estate company, announced a wave of new retailers to inhabit The Galleria, Houston's premiere shopping and tourist destination, including Loro Piana, Ted Baker, Massimo Dutti, AG Adriano Goldschmied, Tadashi Shoji and Robin's Jeans. Several of the new retailers are slated to open in the transformed former Saks Fifth Avenue space in 2017. This announcement comes on the heels of the openings of Céline and Christian Louboutin, both exclusive to The Galleria in Houston.
"There is significant demand to be a part of The Galleria's retail mix. Through this transformational moment at The Galleria, we are able to deliver a vibrant multi-level mall extension anchored end-to-end by Saks Fifth Avenue and Neiman Marcus featuring approximately 110,000 square feet of space for 35 new and unique retailers and several new restaurants, all opening in 2017," said Chris Lane, Director of Marketing and Business Development. "We are extremely committed to providing our shoppers with an unrivaled shopping experience that includes preeminent retail stores and restaurants."
Ted Baker, Massimo Dutti, AG Adriano Goldschmied, Tadashi Shoji and Robin's Jeans are just a few of the new retailers that will join fine dining options Nobu and Fig & Olive in the former Saks Fifth Avenue space. In addition, a variety of current Galleria retailers plan to relocate to the new space including St. John, Cole Haan, Tumi, Coach and kate spade new york.
New Retailers Slated to Open in 2017
Loro Piana / Exclusive to The Galleria in Houston, Loro Piana produces superlative textiles and luxury goods using the world's finest, rarest raw materials. The Galleria location will mark the brand's second post in Texas and will open on street level near Neiman Marcus.
Ted Baker / What started as a contemporary men's shirting company in Glasgow, UK has now transformed into Ted Baker's luxury clothing line. The retailer offers men's and women's ready to wear, as well as accessories, footwear, active wear and lifestyle products with Ted Baker's signature clean and crisp aesthetic.
Massimo Dutti / Massimo Dutti, based in Spain, represents an urban, elegant and contemporary style of fashion, offering men's and women's clothing, accessories, shoes and expert tailoring.
AG Adriano Goldschmied / Started by denim pioneer Yul Ku in 2000, AG Adriano Goldschmied has developed from a premium denim retailer to a complete contemporary lifestyle brand. AG is designed in Los Angeles, fully embracing the relaxed and eco-conscious attitude towards ready to wear fashion for men and women.
Tadashi Shoji / Tadashi Shoji is a luxury women's wear brand that specializes in exquisite eveningwear fit for cocktail hour, the red carpet, weddings and more. The intricate designs inspire women to showcase their beauty and exude glamour and ease.
Robin's Jeans / Founded by French designer Robin Chretien, Robin's Jeans is known for its biker-chic aesthetic, stemming from his love of vintage cars and old school movies. The innovative denim brand features intricate design work such as hand embroidery, crystal studding and leather appliques on its clothing and accessories for men, women and kids.