Jack Daniel's Tennessee Honey Returns with Art, Beats and Lyrics National Tour Fusing Urban Art and Hip-Hop Under One Roof
Traveling lifestyle experience to visit nine cities, including New York and Chicago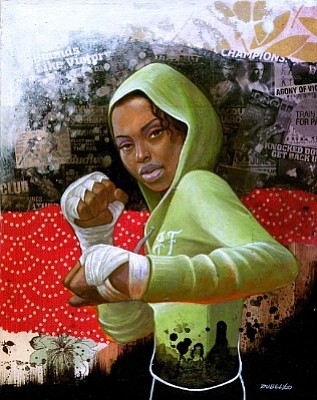 LYNCHBURG, Tenn., Oct. 18, 2016 /PRNewswire/ -- Art, Beats and Lyrics, the national art and music tour presented by Jack Daniel's Tennessee Honey and Cult Creative, is back for the 12th year, and will visit more cities than ever. Launched by Cult Creative in 2004 as a local art show in Atlanta, Art, Beats and Lyrics combines an affinity for urban art and hip-hop culture. Now one of the largest traveling lifestyle experiences of its kind, the tour was created to provide a platform for upcoming visual artists and hip-hop acts to gain exposure and reach.
Art, Beats and Lyrics brings together upcoming and seasoned veterans from both the visual arts and music worlds. The new tour returns to staple cities such as Charlotte, Atlanta and Birmingham, and brings this one of a kind experience to new cities, including New York and Chicago, for the first time. Guests in each city can expect to be engaged and inspired by the interactive, visual art installations, while being entertained by performances from top hip-hop acts and enjoying Jack Daniel's Tennessee Honey cocktails.
"Art, Beats and Lyrics is an amazing experience that showcases creativity in urban art and hip-hop today," says Casey Nelson, Brand Director, Jack Daniel's Flavors. "Jack Daniel's is a brand that has always had a strong connection to arts and entertainment, and Art, Beats and Lyrics is an opportunity for us to celebrate emerging talent across the country."

Over the years, the tour has featured works from globally renowned artists, such as Miya Bailey and Frank Morrison, along with tour curator and co-producer, Dubelyoo. Recurring hip-hop headliners throughout the years have included legends such as, Scarface, Twista, Mystikal and more. Music performers are typically announced within a week of the event, to create an element of surprise for guests.
"Looking back, upcoming artists didn't always have as many outlets to showcase their craft, especially in the urban space," says Dubelyoo, Art, Beats and Lyrics curator and co-producer. "Art, Beats and Lyrics has grown to be much larger than we could have ever imagined, and we are proud to be able to provide this platform for upcoming artists."
Art, Beats and Lyrics kicked off its 2016-17 tour in Charlotte, and will travel on to Atlanta, New York, Chicago and Miami through December. Upcoming cities and dates will be announced in 2017.
For more information and event details, please visit www.JackHoneyABL.com.

About Jack Daniel's:
Officially registered by the U.S. Government in 1866 and based in Lynchburg, Tenn., the Jack Daniel Distillery, Lem Motlow, proprietor, is the oldest registered distillery in the United States and is on the National Register of Historic Places. Jack Daniel's is the maker of the world-famous Jack Daniel's Old No. 7 Tennessee Whiskey, Gentleman Jack Rare Tennessee Whiskey, Jack Daniel's Single Barrel Tennessee Whiskey, Jack Daniel's Tennessee Honey, Jack Daniel's Tennessee Fire, Jack Daniel's Sinatra Select, and Jack Daniel's Country Cocktails.
Fly Straight. Drink Responsibly.

JACK DANIEL'S TENNESSEE HONEY is a trademark of JACK DANIEL PROPERTIES INC. ©2016. Jack Daniel's. Whiskey Specialty, 35% ALC./VOL.(70 proof). Produced and Bottled by JACK DANIEL DISTILLERY, Lynchburg, TENNESSEE, U.S.A.