MAD Magazine's Alfred E. Neuman Highlights Upcoming Lion Heart Autographs Auction in New York
A Vast Array of Important Documents including letters and documents from MAD Magazine publisher, French Impressionist Edgar Degas, Queen Victoria, The 1st Female General of the Salvation Army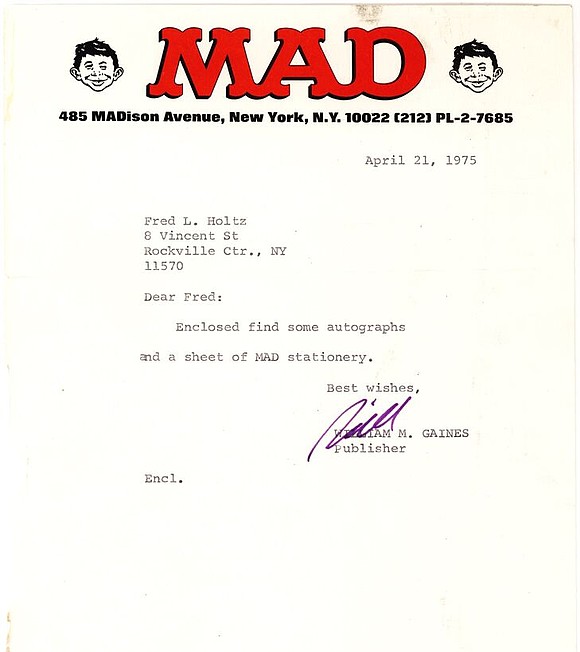 New York, New York – (OCTOBER 18, 2016) – Lion Heart Autographs, one of the country's most widely recognized and respected dealers of historical autographs and manuscripts specializing in art, history, literature, music and science, has announced more remarkable documents to be auctioned at the upcoming "Presidential Letters & Speeches Plus Important Autographs in History, Science & the Arts" auction to take place Wednesday, October 26, 2016 at 1:00 p.m. EST on www.invaluable.com.
In addition to the remarkable presidential documents and letters that are included in the auction are items that played an important role in pop culture, our country and the arts. Highlights include an archive of 13 letters written to a young fan by MAD Magazine publisher Bill Gaines. MAD Magazine was founded in 1952 and was a widely imitated publication that affected satirical media and the popular cultural landscape of the 20th century. At its peak, readership reached two million.
The magazine covered all aspects of life and popular culture, politics, entertainment and public figures, and Alfred E. Neuman became a celebrity icon and the focal point of the magazine's cover. The archive of thirteen letters for sale in the auction offer a rare and remarkable look inside the mind of its publisher.
Additional highlights include extraordinary manuscripts and documents that played a pivotal role in our history and the arts. These include a handwritten letter written by French impressionist Edgar Degas (Estimate: $3,200-$4,000); a very rare autograph of Nathan Bedford Forrest, the brilliant and feared Confederate general notorious for the Fort Pillow Massacre and his post-war leadership of the Ku Klux Klan, the founding of which was incorrectly attributed to him (Estimate: $1,500-$2,000); a scarce signed photo of the first female general of the Salvation Army, Evangeline Booth (Estimate: $400-$600); a financially related Winston Churchill letter about his "Rothschild Investment" (Estimate: $3,000-$3,500); a Cole Porter check made out to his lover, Actor Jack Cassidy and father of teenage heart-throb actor David Cassidy (Estimate: $300-$500); a document signed by Queen Victoria pardoning a convicted forger (Estimate: $300-$400) and many more extraordinary items.
The auction "Presidential Letters & Speeches Plus Important Autographs in History, Science & the Arts" will offer additional autographs and manuscripts including a lengthy 1864 document of American artist and telegram inventor Samuel F.B. Morse recommending portrait artists and closing with: "If Lincoln is reelected I shall despair" (Estimate: $4,000-$5,000); a President Jimmy Carter letter congratulating Neil Armstrong on the 25th Anniversary of the moon landing: "Your step truly was a giant leap for all mankind" (Estimate: $500-$750); a rare autograph letter signed in which Robert Kennedy jokes about gangsters with pioneering Washington journalist Sarah McClendon (Estimate: $2,000-$2,500); a greeting card signed by Jimmy and Rosalynn Carter, George and Barbara Bush, Ronald and Nancy Reagan and Gerald and Betty Ford (Estimate: $1,200-$1,500) and much more. Details of other items in the auction can be found at https://www.lionheartautographs.com
HOW TO REGISTER
https://connect.invaluable.com/lionheart/auction-catalog/Presidential-Letters,-Free-Franks-Speeches:-Washington-to-Bush-Important-Autographs-in-History,-Science-the-Arts_CE16YJSVGA/
ABOUT LION HEART AUTOGRAPHS
Lion Heart Autographs is an internationally recognized dealer of autographs and manuscripts specializing in art, history, literature, music and science. Founded in 1978, Lion Heart Autographs has earned an unmatched global reputation for acquiring and placing the most rare, interesting and unique autographs and manuscripts, while scrupulously authenticating and describing each piece's historical significance. Clients range from Harvard, Yale and the U.S. Library of Congress to private collectors, investors and corporations around the globe. Lion Heart Autographs is located at 216 East 45th Street in New York City and is operated by David Lowenherz, its founder and president. For more information, please visit www.lionheartautographs.com