Questions for Clinton and Trump on the Supreme Court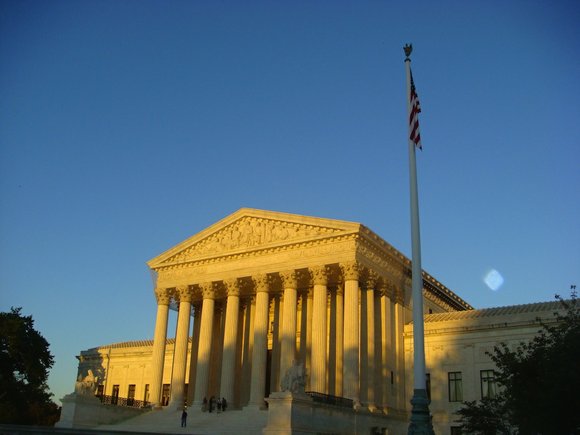 By Ariane de Vogue
CNN Supreme Court Reporter
(CNN) -- The future of the Supreme Court hangs on the next election, but will the issue come up during Wednesday's debate?
Moderator Chris Wallace made it one of the six issues for the debate, so here's our list of what kind of questions could be asked:
For Hillary Clinton:
Clinton is no fan of the controversial campaign finance decision Citizens United. But would she demand a litmus test from potential nominees on the issue? Even retired Justice John Paul Stevens -- who dissented in the case during his final term on the court -- thinks litmus tests are a bad idea.
What about the Second Amendment? During the last debate she squeezed in a comment trying to make the point that you can respect the Second Amendment while still advocating for comprehensive background checks and closing the gun show loophole. Will she be pressed on Antonin Scalia's landmark opinion District of Columbia v. Heller?
Clinton, a Yale Law School graduate and previously an attorney in Washington, D.C. and Arkansas, has certainly praised President Barack Obama's nominee to the high court, Merrick Garland. But will she commit to making him her nominee if Senate Republicans run out the clock through Jan. 20, 2017, as expected? Who is her favorite Supreme Court nominee -- past or present -- anyway?
And what is she looking for in a justice? Is "real-life experience" and "understanding what people are up against" the same thing as empathy?
How important is diversity on the bench? Currently almost all appellate court judges with fancy law degrees.
Trump has put out 21 potential names for the bench. Will she? Why not?
Garland's hearings -- or lack thereof -- have frustrated Nan Aron, president of the progressive Alliance for Justice. "The Supreme Court is hobbled and the risk of deadlock on critical questions is high," Aron said at the beginning of the term. As a senator, Clinton voted against Chief Justice John Roberts as well as Justice Samuel Alito. But should that come up, she would likely note that those two at went through the process and had hearings.
For Donald Trump:
Trump has developed his roster of potential justices with help from conservative groups like the Heritage Foundation -- but will he pledge to keep to that list?
Recently Trump talked about the 20 judges on his list of potentials. What about number 21, Utah Sen. Mike Lee, the only non-judge? Has he fallen off the list? And speaking of lists, will Trump commit to those candidates, or might he ultimately go off-list. Justice Rudy Giuliani anybody?
Trump has been watched closely to see how closely he sticks to the conservative line on the court. C. Boyden Gray, who worked in the George W. Bush administration hopes the candidates will be asked meaningful questions about how they approach judicial nominations. "The next president should nominate judges who have a demonstrated commitment to the rule of law, who will hold agencies to the limited scope of their authority, and who possess the internal fortitude necessary to defend the Constitution without being swayed by flattery or criticism," he said on Tuesday.
Is Trump looking for a litmus test on Roe or Obergefell, the landmark Supreme Court cases from 1973 and 2015, respectively, in favor of abortion rights and same-sex marriage? How far is he willing to go on those issues?
Does he think that it's fair not to hold hearings for nominees, even after the election? Arizona Sen. John McCain seemed to float that this week until his office clarified.
Judicial conservatives love Trump's list of potentials. But his take on eminent domain and the controversial Kelo v New London decision? Not so much. Ted Cruz tried to make this an issue against Trump in the primary; in the general election, does Trump maintain his stand?
Trump has threatened to sue news organizations and mused about changing libel laws if he wins the White House. Is that a real threat? What about the First Amendment and a potential lawsuit against a media organization?
"One of the things I'm going to do if I win... I'm going to open up our libel laws so when they write purposely negative and horrible and false articles, we can sue them and win lots of money," Trump said in February.
Does he think Ruth Bader Ginsburg will have to recuse herself if the election were decided by the courts? She criticized Trump over the summer and later apologized, but that's not likely to be enough for Trump.