Gramophone Artist of the Year Danil Trifonov Returns to Houston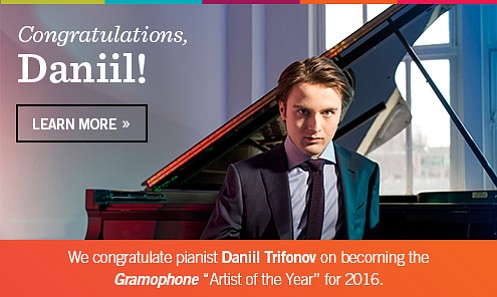 HOUSTON (Oct. 20, 2016) – Recently voted Gramophone's 2016 Artist of the Year, pianist Daniil Trifonov will appear with the Houston Symphony for Trifonov Plus Rachmaninoff at 8 p.m. Nov. 3 and 5 and 2:30 p.m. Nov. 6 at Jones Hall. The 25-year-old Russian piano sensation will perform Schumann's lyrical Piano Concerto before Andrés Orozco-Estrada leads the orchestra in Rachmaninoff's lush Symphony No. 2.
In 2011, Trifonov began his ascent in the classical music world after winning first prize at both the Tchaikovsky and Rubinstein international competitions at the age of 20. Since then, he has joined the New York Philharmonic's Board of Directors, been nominated twice for a Grammy Award, signed an exclusive recording contract with the Deutsche Grammophon label and performed with the world's leading orchestras. Described as "the most astounding young pianist of our age" by London Times' senior music critic, Trifonov has been praised by media worldwide for his incredible talent.­
"I think we have the perfect soloist for the Schumann Piano Concerto in Daniil Trifonov," said Music Director Andrés Orozco-Estrada. "He's interesting in many ways – he's very young, which gives him power and energy, but he's also very mature. He's a genius in a way, like Schumann was. I'm very happy to welcome Daniil back to Houston and experience performing with him for the first time."
After intermission, the orchestra will spotlight one of Tchaikovsky's greatest masterpieces, his Symphony No. 2. Lushly scored and joyful in tone, the piece has been well-received since its premiere in 1872.
The concert will take place at Jones Hall for the Performing Arts, 615 Louisiana Street, in Houston's Theater District. For tickets and information, please call (713) 224-7575 or visit www.houstonsymphony.org. Tickets may also be purchased at the Houston Symphony Patron Services Center in Jones Hall (Monday–Saturday from 10 a.m. to 6 p.m.). All programs and artists are subject to change.
TRIFONOV PLUS RACHMANINOFF
Thursday, Nov. 3, 2016, at 8 p.m.
Saturday, Nov. 5, 2016, at 8 p.m.
Sunday, Nov. 6, 2016, at 2:30 p.m.
Andrés Orozco-Estrada, conductor
Daniil Trifonov, piano
Schumann: Piano Concerto
Rachmaninoff: Symphony No. 2
Tickets from $25