Homecoming Parade to Celebrate Legacy of Texas Southern University
Celebration returns to historic Third Ward for the first time in nine years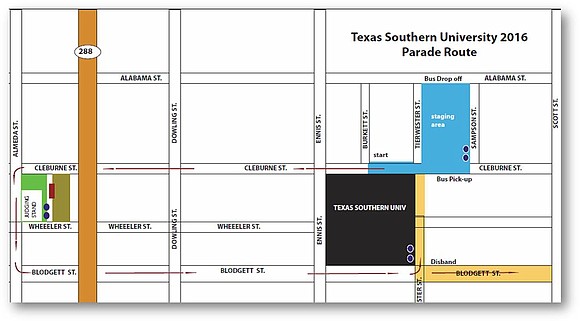 HOUSTON (October 20, 2016) – Texas Southern University's annual Homecoming parade returns to its home in the historic Third Ward for the first time in nearly a decade. The parade will roll on Saturday, October 22 at 10 a.m., traveling a route that commemorates the University's long-standing influence in the community.
The theme of this year's Homecoming celebration – ReMember the Times – is highlighted by the long-awaited return of the traditional Grand Tiger Parade to its original environment along the perimeter of campus and around the Third Ward, designating it as a TSU 'family affair.' Dr. Austin A. Lane, in his first year as Texas Southern's 12th president, will serve as grand marshal. The parade will feature bands from Kansas City, Memphis and New Orleans, ten floats, drill teams and walking units, making it the largest assembly in TSU history.
The parade, with a 2½-mile route, will begin at Burkett and Cleburne streets, travel up Cleburne to Almeda, turn left on Almeda to Blodgett, turn left on Blodgett and end on Tierwester Street, disbanding on campus near student housing [see attached parade map].
TSU's Homecoming Weekend has a full schedule of events, including two concerts - DJ extraordinaire Doug E. Fresh with a tribute to legendary pop icons Michael Jackson, Whitney Houston and Prince, who have all passed and rap group Migos – both on Friday, October 21 at 7 p.m., and the Battle of the Tigers Football game on Saturday, October 22 at 2 p.m., with TSU facing Jackson State in a homecoming match-up at BBVA Stadium.
For more information and tickets for TSU Homecoming events, visit www.tsu.edu.