Early Voting Begins This Monday For Fall 2016 Elections
Burt Levine | 10/21/2016, 11:53 a.m.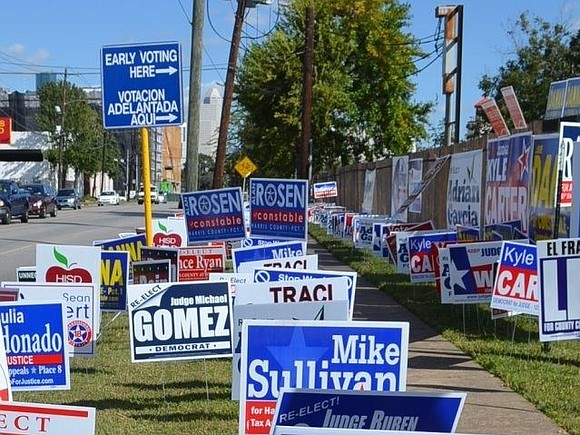 Early voting across Texas begins Monday, October 24th for the November 8, 2016, fall elections at 46 early voting sites across Harris County. Polls will be open from 8 am-to-6 pm the first week, 7 am-to-7 pm on Saturday, October 29, 1 pm-to-6 pm on Sunday, October 30 and from 7 am-to-7 pm on October 31st through November 4.
"With more than 2.2 million registered voters, about half the county's population, is registered to vote in Harris County. Up to 1.5 million of those registered voters are expected to vote this first open election for president since 2008," said Stan Stanart, who as Harris County Clerk is responsible for running the elections in Harris County. In Texas, each of the 254 counties are responsible for running the elections in their county and reporting the results to the Texas Secretary of State. To find out where to early vote please see www.harrisvotes.com.
"I am warning people to expect long lines if they wait until the final days of early voting, let alone the last few hours of Election Day. We will operate a record 46 early voting locations this year in order to accommodate heavy turnout for the presidential contest. Even so, voters shouldn't wait until the last minute," Stanart said.
"We will probably host more than 100,000 people on the last day of early voting. Do not get caught up in that mass of people and the parking situations," he said.
Stanart explained early voting has become more and more accessible. In 2004, there were 32 sites that were open for 119.5 hours. In 2016, there will be 46 sites including new locations in fast growing areas of west and northwest Harris County. Early Voting sites will be open 127 hours for nearly two weeks.
Absentee voting is also an option for senior citizens, disabled individuals, and those that will be away from the county on Tuesday, November 8. The deadline for requesting a mail-in ballot is Friday, October 28. If county officials receive the mail-in ballot by Election Day, it is counted.
In 2000, Harris County had 1,886,661 registered voters with 549,974 or 52.77 percent choosing to vote in the fall general election. By 2012, Harris County had 2,010,577 voters and 1,204,167 or 59.89 percent of the registered voters chose to vote.
Throughout Texas the Presidential race is closer than any time in 40 years and each vote is going to be more important than ever highlighted by a University of Houston poll released this past Tuesday. The results show Republican nominee Donald Trump with a slight led of 41 percent and Democratic nominee Hillary Clinton at 38 percent. Just three percentage points in Texas separate the candidates. Three percentage points is the margin of error which means either candidate could be leading this year compared to four years ago when Mitt Romney won Texas by 17 percentage points.
Share this story online at www.stylemagazine.com.