"Atlanta" Creator and Star Donald Glover to Play Young Lando Calrissian in Han Solo Movie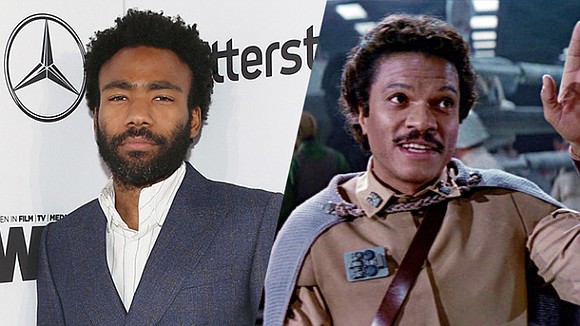 article by Justin Kroll via Variety.com
Writer/Actor/Rapper Donald Glover ("Atlanta", "Community") has landed the coveted role of Lando Calrissian in the Han Solo stand-alone movie starring Alden Ehrenreich.
That film will be set prior to "Star Wars: A New Hope," like the other upcoming "Star Wars" standalone project, "Rogue One."
"We're so lucky to have an artist as talented as Donald join us," said Phil Lord and Chris Miller. "These are big shoes to fill, and an even bigger cape, and this one fits him perfectly, which will save us money on alterations. Also, we'd like to publicly apologize to Donald for ruining Comic-Con for him forever."
Testing for the role of Calrissian has been going on for months with actors like O'Shea Jackson, Jason Mitchell and "The Get Down"'s Yahya Abdul-Mateen among those who have tested. Glover was considered the favorite but just to be sure co-directors Lord and Miller decided to do a second round of tests earlier this month with Glover and Mitchell. Glover was eventually tapped for the role.
There was some worry that scheduling Glover's hit show "Atlanta" and the Han Solo shoot would be an issue, with the series just getting a second season. Since Glover is also the creator and heads the writers' room for "Atlanta," there was a worry that his commitment to running the room — which is open now and would of gone into production in March — would cause scheduling conflicts.
Sources now say they will probably bank all the scripts now and move production to next summer to accommodate the Solo shoot. Production on the untitled Han Solo film is expected to begin in January.
Played originally by Billy Dee Williams in "Empire Strikes Back" and "Return of the Jedi," the Lando character is a fan favorite in the "Star Wars" universe and it was unknown, until recently, if he would be making an appearance in any of these standalone movies.
The Han Solo prequel will hit theaters May 25, 2018.
To read more, go to: http://variety.com/2016/film/news/star-wars-donald-glover-to-play-young-lando-calrissian-in-han-solo-movie-1201897037/
Source: Good Black News