Obama Turns His Wrath on GOP Senate Hopefuls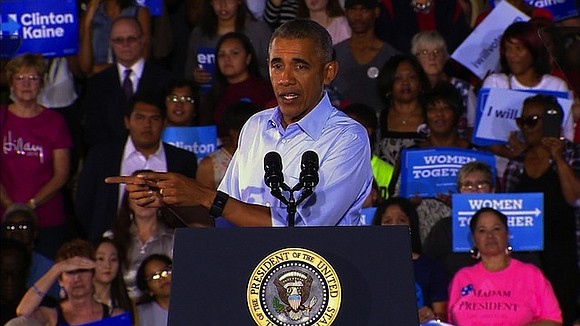 By Kevin Liptak
CNN White House Producer
LAS VEGAS (CNN) -- His deep disdain for Donald Trump now long established, President Barack Obama is turning his arrows on Republican lawmakers stuck with the GOP nominee, landing Air Force One on their turf and unleashing a torrent of insults.
He ripped Ohio Sen. Rob Portman in Columbus last week as a too-little-too-late political opportunist for disavowing Trump only after the presidential nominee boasted about sexual assault. He lashed Florida Sen. Marco Rubio in Miami as a weak-minded hypocrite who once ran against Trump but now worries about alienating his backers.
And on Sunday in Las Vegas, he declared GOP Rep. Joe Heck, running to replace retiring Senate Minority Leader Harry Reid, a closet Trump supporter, even as he's disavowed the candidate.
"How does that work?" Obama said with disdain during a raucous campaign rally here. "You're for him, but you're not for him. You're kind of for him. What the heck?"
"That's not leadership. That's cynical," Obama said. "That means you'll say anything and so anything just to get elected."
During his half-hour stump speech, Obama lambasted Trump for carrying out a "bromance" with Russian President Vladimir Putin and for suggesting the upcoming vote is rigged in favor of Democratic nominee Hillary Clinton.
"That means he's losing," Obama said on Trump's claims about the validity of the election. "It means you don't have what it takes to do this job."
Polls in Nevada show a close race, though Clinton has emerged with a narrow edge in the last several weeks. A Monmouth University survey released just before last week's debate showed the Democratic nominee at 47% support among likely voters, compared to 40% for Trump. That was a reversal from a month ago, when Trump stood at 44% and Clinton at 42%.
The state's Senate race, held to replace Reid, appears tighter. Heck stands at 45% in the Monmouth survey of likely voters, while his Democratic rival Catherine Cortez Masto, a former attorney general, is at 42%.
In his remarks Sunday, Obama reserved his harshest criticism for the GOP Senate candidate, who initially backed Trump enthusiastically but withdrew his support following tape of Trump making the sexually aggressive remarks. Obama said that kind of political reversal doesn't stand scrutiny.
"Now, when suddenly it's not working, and people are saying this guy's kind of out of line, all of a sudden these Republican politicians who were OK with this up to a point, are saying this was too much, suddenly that's a deal-breaker," Obama said. "Well what took you so long?"
"What the heck took you so long?" Obama said again with emphasis -- one of several times he deployed the candidate's surname as an attack.
And he went after a new Republican tactic, suggesting GOP lawmakers should be elected to act as a check to Clinton's power should she win. An ad in New Hampshire this week backing incumbent Republican Sen. Kelly Ayotte utilized the argument, but Obama said the senators' records should stand for themselves.