TV Johnny & Paul Wall Open The Largest Johnny Dang & Co. Store In Houston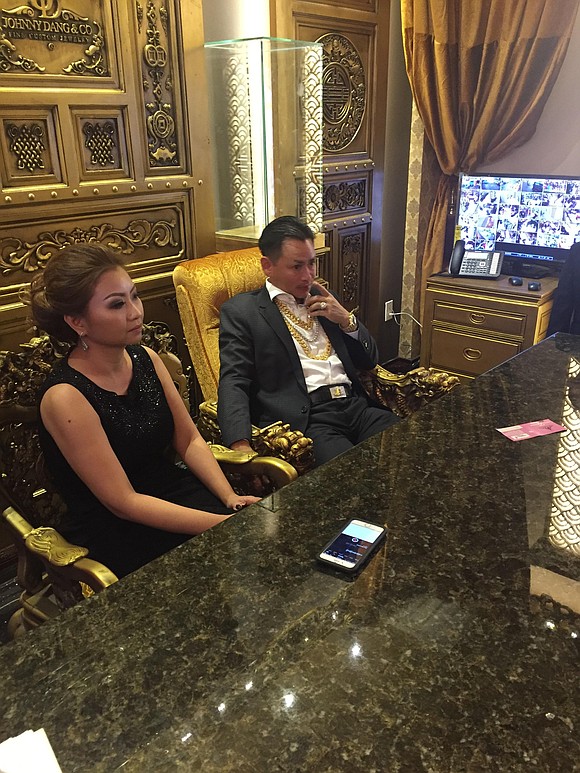 Standing inside the impressive office of Johnny Dang & Co's new location, there's one word that comes to mind; opulence. Introducing himself as Brad, the builder reveals that the golden walls were imported directly from Vietnam. At 14,000 sq. feet it's the third and largest Houston location for Johnny "TV Johnny" Dang, who sits behind a well crafted desk in order to answer a few questions before the grand opening officially begins.
"I've been dreaming of having my own complex and I was blessed to make it happen. Very blessed, it's like a dream come to reality. I appreciate Houston and the city for supporting me. I love it."
At his side is wife Jennifer Dang, whose Fashcino collection is featured alongside her husband's custom Grillz and sparking jewels. She explains, "We want our customers to feel that they are very important."
On that day they've pulled out all of the stops, giving the media a private tour complete with catering and an open bar courtesy of Hennessy. On the other side of the room sits Houston legend Paul Wall, who has worked with Dang as they've built Johnny Dang & Co into a powerhouse. It's been a great year for Wall, thanks in part to the success of his recently released The Houston Oiler and the banger "Swangin in the Rain", released earlier this year.
With tunes provided by DJ J-Que and C Stone the Breadwinner on the mic, the event also boasted appearances from Houston's own Z-Ro, Slim Thug, Donnie Houston, Dante Higgins and more.
For all things related to the jewelry king, visit: http://tvjohnny.net/