Texas Southern's Homecoming Renewed Its Bond As a Family Affair In the Community
Joyous crowds lined Third Ward route to welcome Grand Tiger Parade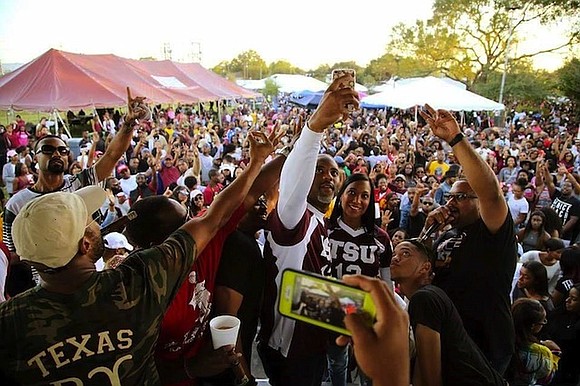 HOUSTON (October 25, 2016) – The Texas Southern University campus was abuzz for seven days as students, alumni, faculty and staff celebrated its 2016 Homecoming – ReMember the Times. This year's week-long slate of events featured three concerts, a basketball game between alumni and students, a comedy show, college open house receptions, a coronation, tailgating and a parade - all on the campus located in the heart of the city's historic Third Ward. The Homecoming football game was held at nearby BBVA Stadium, home of the TSU Tigers. Homecoming was held October 16 – 22.
TSU President Austin A. Lane was present for most events throughout the week, engaging students, alumni, faculty and staff in a jam-packed Homecoming schedule. Lane hosted a brunch for students, played in the Clash of the Classes basketball game, represented his fraternity (Kappa Alpha Psi) at the Wild and Out comedy show, interacted with alumni at their gatherings, continued the Listen and Learn Tour, played in a round of golf at the alumni Tiger Paw Golf Classic, and attended the University's Remember the Times Showcase and Concert, hosted by KTSU Radio. Lane served as Grand Marshal of the Grand Tiger Parade and presented TSU's Royal Court during halftime at the football game.
"It was a whirlwind, but the Tiger energy was high. There was something for the TSU community, both youngsters and elders, and the University fulfilled its mission to remember the past as we look forward to a bright future," Dr. Lane said.
Homecoming Week opened with a spirit-filled gospel concert featuring two-time Stellar Award-winners, The Walls Group, vocalists Kathy Taylor and TSU's Living Testimonies Choir. TSU's Royal Court was crowned in an elegant Coronation Ball that featured Miss TSU CaSandra Cantue and Mr. TSU Moses Mbai. Students partied the night away with a Greek Step Show, attended an all-white party and Concert, featuring the hip-hop group Migos. The ReMember the Times Old-School Party, hosted by KTSU-FM 90.0, featured DJ extraordinaire Doug E. Fresh and a tribute to late music icons Whitney Houston, Michael Jackson and Prince, with performances by Chris Walker, Mary Griffin, and Rick Marcel of the Walker Entertainment Group. Homecoming culminated with the much-anticipated return to the community of the Grand Tiger Parade, the campus Tailgate Party and the Clash of the Tigers football game featuring TSU versus Jackson State. TSU fell short to Jackson State in a hard-fought loss, 21-13.

Zachery Johnson, the drum major at Kashmere High School who has been featured in a popular Metro television commercial, came one giant step closer to fulfilling his dream of becoming a member of TSU's famed "Ocean of Soul" Marching Band. Johnson was awarded a full scholarship to attend TSU next fall and audition to be a drum major for the University's renowned marching band.
"Zachery is a great example of why alumni support of TSU scholarship fundraising campaigns is so important," said TSU First Lady Loren Lane. "When we identify students such as Zach with excellent credentials and a burning desire to join the TSU family, we want to be able to give them that opportunity."