Menu Offerings That Capture the Spirit of Autumn
Yolanda Pope | 10/28/2016, 11:30 a.m.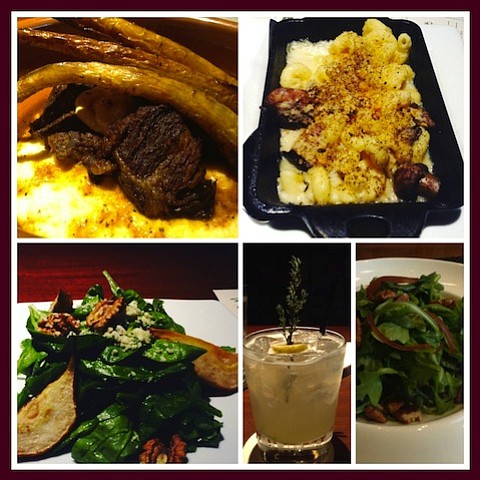 Houston's weather is finally beginning to reflect the changing of the temperature, many restaurants have switched their menu selections to reflect such changes. Now is the season for dark leafy greens, roasted pecans, walnuts, and mouth –watering bosc pears.
We re-visited Seasons 52 and Quattro to taste some of their most requested autumn dishes and the selections did not disappoint.

First of all, Quattro Restaurant located in The Four Seasons Hotel in Downtown Houston has an eclectic menu of classic Italian dishes that are all the creation of Chef Maurizzio and his staff. We started dinner with the arugula salad, which is made with the greens, pears, pickled onions, Texas pecans and lemon dressing. The fresh vegetables and nuts were light, crunchy, and the combination of the pickled onions with the dressing created a slight burst of citrus flavors at the end.
We moved on quickly to the Strozzapreti Caserecci, which is described on the menus as" untraditionally cooked: strozzapreti pasta, 44 farm short ribs ragout, dried porcini mushrooms." The chef explained that the pasta was prepared by hand, and then went straight into the sauce as opposed to water, which is considered the traditional way of preparation. This dish was full of flavor, the pasta was cooked perfectly, the sauce coated each bite and the short ribs were so tender, I almost forgot that we were eating meat. This paired well with the Byott Cotes 2015 wine selection that we enjoyed immensely.
The following week, we sprinted back to City Center and paid another visit to Seasons 52. As we looked over the menu, our server recommended one of the best tasting cocktails I've experienced all year. "The Perfect Storm", which is made with a combination of Absolut Pears, St-Germain Elderflower Liqueur, Bosc Pear, and a sprig of Thyme. As we enjoyed this drink and rolled our eyes to the top of our foreheads, the waiter slid in a platter of the duck wing lollipops. The wings were slightly spicy which made the cocktail taste even better.

Finally, the tasting wrapped up with the Spinach and Caramelized Bosc Pear salad, which was topped with toasted walnuts, Gorgonzola, sherry-walnut vinaigrette. This salad tasted like Christmas, every bite of it.
The main course consisted of Boneless Beef Short Rib, which is prepared "slow braised, stone ground cheddar grits, roasted carrots, horseradish crema. The beef was tender and full of flavor; every bite I took had some of the grits on the fork. We also tasted the TRUFFLE MAC 'N' CHEESE EN BRODO, which consists of cave-aged Gruyère, cheddar, truffle zest, and panko crust.
We gave up and took the rest home, now it's your turn, check out Quattro and Seasons 52, let us know what you think.
Thanks for reading, and continue to follow Team Style Magazine on Twitter, Facebook and Instagram.