Voters Beware: Check Your Choice to Hear Your Voice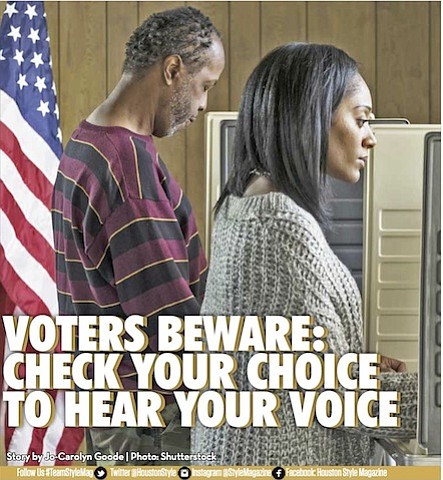 Eight years ago a Chicago man made us all have hope and believe that we could do the impossible together. We rode that dream all the way to the polls to make history and elect Barack Hussein Obama as the first African American President of the United States of America.
Now over ninety years after women got the right to vote, we stand poised to make history again. President Obama has called her the most qualified. First Lady Michelle Obama says that she would be a president that our kids could look up to. Her policy views and the belief in what she stands for has made even the most devout Republicans switch party lines to be with her. Hillary Rodham Clinton is a candidate that will progressive the nation on the legacy of President Obama while forging her own path.
In the other corner is a no traditionalist in every sense of the word. Because he is not Washington grown, he thinks differently. He is using his years of business sense to try to make political sense but it is not making total sense to all of America. He is a candidate that makes one scratch their head. Although major political leaders of his party don't support him nor does any former living President of the United States of America, he continues to be close in the polls with his opponent, sometimes in the lead and sometimes trailing behind depending on the day and pollsters. Donald J. Trump is unlike any presidential candidate this country has ever seen.
Two candidates who are polar opposites have made this campaign season one of the most brutal, interesting and historic. Flaring emotions in Americans, no matter their party affiliation, to energize them to show up at the polls in record numbers. This has caused a myriad of problems to swirl surrounding election 2016.
Before votes could even be cast in Texas, the rumors of a "rigged" election started with Trump as the loudest voice crying wolf. Claiming that the system was rigged in the favor of Clinton. With early voting underway in Texas, claims have grown. Residents across the state are taking to social media with a stern warning to all voters to check their ballots before casting them. Why? Human error seems to be the culprit.
Throughout Texas, voters are going into the voting booth to cast their vote but at the end when they are reviewing the ballot the selected choices don't always match up with the ones they originally selected. Some voters have said that if they do a straight Republican ticket when they review their ballot at the end Hillary Clinton is selected as president and vice versus if they do a straight Democratic ticket. Of course, this has caused a lot of tempers to rise and speculations to circulate. However, voting officials have repeatedly said that no voter rigging is happening and the voting machines are in working order. The problem lies with the operate/voter who is turning the wheel incorrectly when preparing to cast their vote. Voters need to simply review their ballot thoroughly before casting their vote and if all else fails ask the voting officials on site for assistance.
Houston voters have had to ask for a lot of assistance since they have also incurred a different problem. Voters will select to do a Democratic Party ticket but when they write in any candidate their vote for Hillary Clinton as president is kicked out. Jolanda Jones recently posted a video about the issue at one local polling site in Houston. She wrote on her Facebook page, "Pls share this information…if you write in ANY candidate you will not be able to vote for Hillary Clinton…pls vote straight democratic ticket pls. We cannot loose this because of write in candidates!! Vote straight dems." The solution to this problem is the same as the first. Check your ballot and when in need ask voting officials for help.
Harris County Clerk Stan Stanart has reassured voters that all voting procedures followed in the county are in aligned with the Federal and State Election Code. In an interview with Houston Public Media, Stanart said voting machines are accurately set up and overseen by appointees from both major parties before any votes are cast. After that process, the machines are then delivered to polling locations on judge booth controllers under seal. Votes cast are recorded on SD-like cards that are resealed for transport back to the tabulation location. The machines are never connected to the internet. Stanart said they are lot eyes and triggers in the whole system that would uncover fraudulent voting.
Whether you choose to make history with Team Clinton or think differently with Team Trump, just make sure you do at least one thing and that's vote. Vote now. Vote early. Don't wait until November 8th. And once you vote, double and triple check your ballot before casting your vote. Early voting is happening now through November 4th. Find out where to vote at votetexas.gov, harrisvotes.gov or fortbendvotes.gov.