Former Houston Texan Andre Johnson Retires From the NFL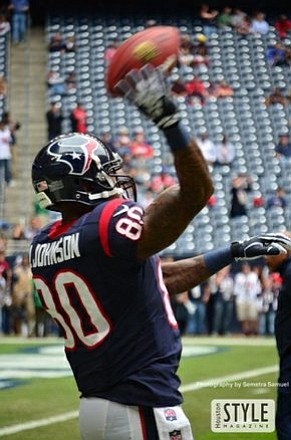 Former Houston Texan Andre Johnson has announced his retirement from the NFL. The Tennessee Titans made the formal announcement on Monday.
Read more of the story from ESPN
A seven-time Pro Bowler with the Houston Texans, Johnson had been serving as a backup on the Titans' depth chart this season. He had nine receptions for 85 yards and two touchdowns in 2016 but hadn't made a catch since Week 5 against the Miami Dolphins.
Johnson made his legacy in Houston, where he is by far the franchise leader in receiving yards, receptions and receiving touchdowns.
The 35-year-old steps away from football 10th overall in career receiving yards (14,185) and ninth in career receptions (1,062).
Johnson led the league in receptions in 2006 (103 catches) and 2008 (115). He topped the NFL with 1,575 receiving yards in 2008 and 1,569 yards in 2009.