Houston Super Bowl Host Committee Touchdown Tour is On!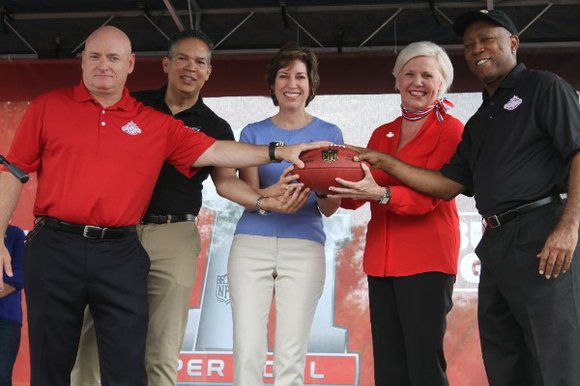 Football fans in Houston flocked to Space Center Houston on Saturday to take part in the Houston Super Bowl Host Committee's first Touchdown Tour.
The Touchdown Tour, designed to bring the excitement of the Super Bowl directly to Houston region communities and energize the area for the Big Game, which will be played at NRG Stadium on Feb. 5, 2017.
The tour featured a Marine color guard, a flyover from the Coast Guard – Air Station Houston, and a special Super Bowl street art exhibit.
Retired astronaut Scott Kelly, along with Johnson Space Center Director Dr. Ellen Ochoa and Space Center Houston Director William T. Harris presented Host Committee President and CEO Sallie Sargent and City of Houston Mayor Sylvester Turner with the football that spent five months aboard the International Space Station with Kelly. The football was used in promotional videos Kelly shot for the Host Committee, including the Super Bowl handover ceremony following Super Bowl 50 in February.
Cloudy skies kept the temperature down at Space Center Houston for the first Touchdown Tour stop. The people who gathered outside the entrance waiting for the event to begin were rewarded with warm welcomes from the Houston Texans cheerleaders and Texas mascot, Toro, while the Texans pep band, Deep Steel Thunder, announced their arrival.
Fans spent their time taking in the variety of games, exhibits and booths that make up each Touchdown Tour. One of the most popular spots was the painted helmet wall, where 51 helmets which were painted by local artists and placed on a wall to spell out the letters 'HTX'.
Retired Texans players Wade Smith and Seth Payne spent time signing autographs and meeting fans.
Visitors also had the opportunity to catch a touchdown pass from a machine and, for the younger fans, a Play 60 field to test their skills, as well as a large Houston Texans inflatable slide.
This was the first of several Touchdown Tour events that will be held in and around the Houston region throughout the fall. The next Touchdown Tour is scheduled from 5-7:30 p.m. Friday, Sept. 2, in the parking lot of Constellation Field in Sugar Land.
The Touchdown Tour event is free to the public.