Chef Rhonda Russell is the Real Deal on Food and Wine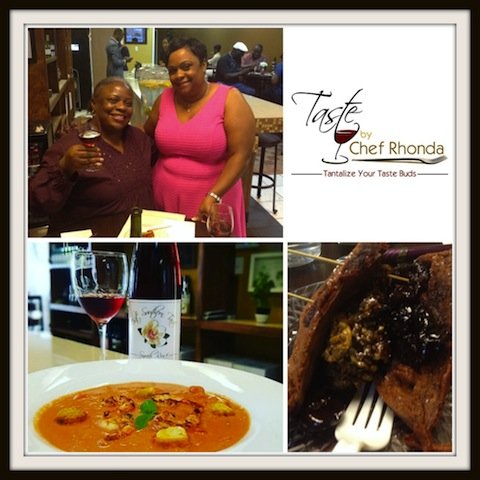 A crowd of foodies and wine lovers gathered at 9411 Richmond Avenue in Houston to watch Food Network's Cooks Vs. Cons which featured Wine Maker and Executive Chef, Rhonda Russell. She is a Wine Sommelier, a Certified Personal Chef, and is the only African American female Chef of Wine Arts according to her website.
Originally from Louisiana, Russell started her culinary training in the kitchen with her grandmother who was well known for her talent as a baker and all around great cook. Young Rhonda, "who was frequently recruited to wash dishes, would stir in ingredients and serve as an overall cook's assistant, Little did she know, she was being exposed to the world of Louisiana culinary art and igniting a passion to share this world with all in a very unique and gifted way. "
Moreover, for the past several years, Chef Rhonda has worked with many clients to "demystify food and wine pairings." In fact, Russell used her training and experience to create her very wine label and wine shop called The Taste by Chef Rhonda.

While the crowd continued to gather, we started our evening over a glass of Chardonnay that paired beautifully with the crab and corn bisque, which was seasoned to perfection, and showcased the Creole flavors that paid homage to her Louisiana roots. The soup was creamy, warm, and finished with a kick of cayenne pepper that didn't overwhelm the dish. Shortly thereafter, we tasted some of the Chef's homemade pickled okra and cherry tomato salad.
Next, Chef Rhonda introduced our table to one of her most requested wines called "Syrah Rose," in my view, this wine was the best taste I had all evening. It captures all the things that this writer loves about wines, light, bubbly, and crisp with a smooth finish. This was paired with a Red Velvet Waffle, Pretzel and Pecan Coated Fried Chicken topped with a Black Cherry Compote. The dish was well composed with the crunchy bite of chicken and the slight sweetness of the waffle that was savory as well as satisfying.
Subsequently, as we enjoyed this savory delight, we watched as our Chef was eliminated in the first round of the Culinary Competition, for the same dish that sat before us. Moreover, we jokingly convinced ourselves that Russell's ingredients had to have been sabotaged during her segment on the Food Network debut.

Finally, to say that the tasting experience with Chef Rhonda was good would definitely be an understatement, this writer highly encourages you to visit her shop, join her wine club, bring some friends, have something to eat and savor every moment of your visit.
Learn more about Russell and her store by going to http://www.tastebychefrhonda.com/home.html.
Thanks for reading, and keep following Houston Style on Twitter, Facebook and Instagram.