Colin Kaepernick Pledges $1 Million Donation to Social and Racial Justice Charities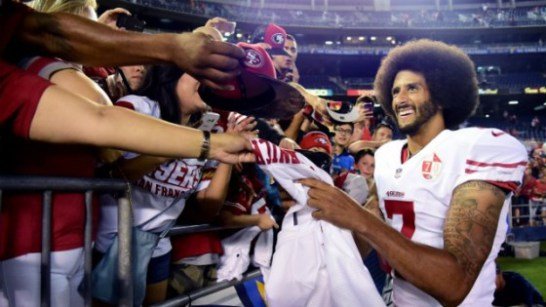 article by Natasha Alford via thegrio.com
In the midst of controversy over his protest of the national anthem, Colin Kaepernick is using the spotlight to address the issues he says inspired his stance.
At Thursday night's preseason game against the San Diego Chargers, Kaepernick pledged a $1 million dollar donation to groups which address issues of racial and social inequality.
He didn't offer specific details about which groups would receive donations but explained his intentions.–Veterans show support for football star with #VeteransForKaepernick tweets "I've been very blessed to be in this position and to be able to make the kind of money that I do and I have to help these people,'' said Kaepernick. "I have to help these communities. It's not right that they're not put in the position to succeed or given those opportunities to success.''
Kaepernick also recently joined forces with his girlfriend, Hot 97 radio personality Nessa Diab, to donate $60,000 worth of backpacks to students in Harlem and the South Bronx. As part of his six-year, $114,000,000 deal with the 49ers, Kaepernick's base salary this year is $11.9 million dollars.
To read full article, go to: Colin Kaepernick pledges $1 million donation to charity for needy communities | theGrio