New York Casting Director, Marishka S. Phillips, Coming to Houston to Scout for New Talent
Phillips to Host Two-Day Theatrical Preparatory Master Class presented by Greta Williams of The Williams Group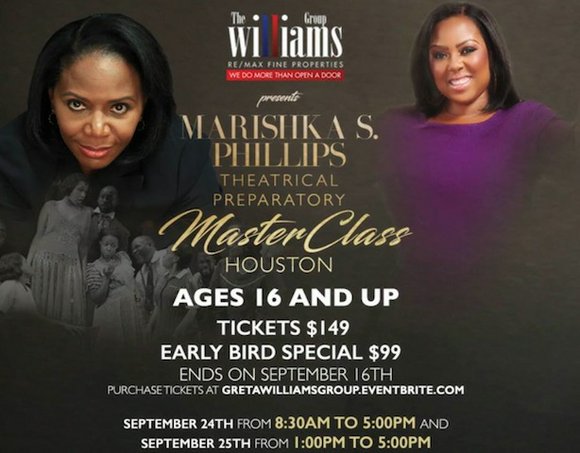 HOUSTON, September 6, 2016 – Marishka S. Phillips, Broadway actress, accomplished director, thespian guru and official New York casting director, is coming to Houston to host a two-day theatrical preparatory master class on September 24-25, 2016 presented by Greta Williams of The Williams Group.
Phillips will be joined by fellow working actors, Shelton Jolivette, best known for his roles in the television series American Crime and movies Wolfe and Friday Night Lights; Kedrick Brown, Houston-based actor who recently landed a role on Oprah Winfrey's new series, Greenleaf; Amelia Jeffries whose body of work includes more than fifteen independent films and several television productions, including The Leftovers on HBO and American Crime on ABC, The Astronaut Wives Club, Chase, Treme, Memphis Beat, The Lying Game, Common Law and Longmire; and Tamar Davis, GRAMMY®-nominated singer, songwriter and actress who gained notoriety singing and touring with Prince and recently appearing on NBC's The Voice, Season X. Tamar also made her debut on Broadway in "Motown: The Musical" and has toured extensively with Tyler Perry performing in his stage plays, "The Marriage Counselor," "Laugh to Keep from Crying," "Madea's Big Happy Family," "A Madea Christmas" and "Madea Gets a Job." Tamar is a graduate of the High School for the Performing and Visual Arts in Houston.
The event will be held on September 24-25, 2016 at Barnevelder Performing Arts Center (The Barn), 2201 Preston Street, Houston, Texas 77003. Early bird registration is $99 through September 16 and the regular price of $149 will go in effect on September 17. The two-day theatrical preparatory master class is open to actors, aspiring actors and those hoping to be discovered, age 16 and up.
Phillips is currently casting for a feature film, so she is hoping to discover some of Houston's best and brightest acting talent during the workshop.
"There is a misconception as to what it takes to be a thriving and working actor," said Phillips. "It takes 10,000 hours to master a craft. Are you willing to put your heart in it? I will teach you the tools needed to book the gig. You will also learn the art of being private in public through the use of your fourth wall."
As an actress, singer, and dancer, Phillips is a bona fide triple threat, and has performed and toured with Sean P. Diddy Combs, Christian Castro and CeCe Winans, to name a few. As an acting coach, Phillips founded the Marishka Phillips Theatrical Preparatory in 2011 and has coached and trained some of the Hollywood's biggest names, including Deborah Cox, Kerry Washington, Terri Vaughn, Rafael Sadiiq, Tasha Smith and Elizabeth Rohm. Phillip's ingenious acting method combines the traditional art of story-telling through a spiritual connection.

Actors are encouraged to bring their resumes, headshots and monologues to the workshops. She will also have lines to read for aspiring actors and those hoping to get their big break.
Greta Williams of The Williams Group is presenting the event. Williams, who has been a Houston-area Realtor® for more than sixteen years, also has a love for the arts. Williams was trained at the prestigious Julliard School, receiving a master's degree in vocal performance. Williams also taught at The Boys Choir of Harlem and was the performance manager in the Pre-College Division at The Juilliard School. She has toured Europe and performed with many notable artists.
"I love being a Realtor, but my first love is the Arts," said Williams. "I love the stage and the many places you can go while there. I've studied with Marishka and she is absolutely amazing! I can't wait for others to experience her."
To register for the two-day theatrical preparatory master class, visit https://www.eventbrite.com/e/the-williams-group-presents marishka-s-phillips-theatrical-master-class-tickets-27297045197?utm medium=discovery&utm-campaign=social&utm content=attendeeshare&aff=esfb&utm-source=fb&utm-term=listing.