6 Harris County Teen Artists, Writers to Exhibit Work in Washington, D.C. Institutions
Work from six Houston-area Scholastic Art & Writing teen national medalists will be showcased in Washington, D.C. through the "Art.Write.Now.DC" exhibit spanning three locations. The six students are from Houston, Klein, Cypress-Fairbanks and Deer Park independent school districts and The Village School and St. John's Upper School private schools.
"Out of 85 talented teen artists and writers throughout the United States being honored through these exhibits, six of those talented students are from Houston," said Harris County Department of Education regional Scholastic Art & Writing coordinator Andrea Segraves, who is also director of the Teaching and Learning Center at HCDE. "We are honored as the regional sponsor of this iconic program which allows teens to express their art and writing abilities and showcase their talent."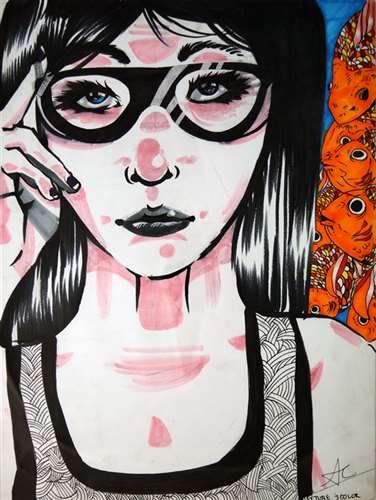 Students being honored include teen writers Amy Dong (critical essay) from St. John's Upper School, Peyton Vasquez (personal essay/memoir) from Deer Park Middle School in Deer Park ISD, and Melanie Menkiti (short story) from The Village School. Artists are Andrea Conley (drawing and illustration), Pin Oak Middle School, Houston ISD; Erin Del Paggio (drawing and illustration), Kleb Intermediate, Klein ISD; and Judy Labib (photography), Cypress Woods High School, Cypress-Fairbanks ISD.
The artists' and writers' work will be on display at the U.S. Department of Education, the President's Committee on the Arts and the Humanities and the Institute of Museum and Library Services.
Kleb Intermediate teacher Vivian Fridley-Hereford said her student Del Paggio has earned two national Gold Medals for work she did as a seventh grader, the youngest grade eligible to enter the awards. Earning national recognition has helped the teen recognize and value her artistic talents, Fridley-Hereford said.
Cypress-Fairbanks student photographer Labib is described by her teacher Juan Guevara as kind, hard-working and selfless. The senior has developed into an incredible artist, he said.
Deer Park student Vasquez, a cancer survivor, used writing to share his story and struggles. The seventh grader had a tumor removed in his eye in second grade which left him with complications and ongoing challenges. The regional and national awards he has received in 2015 and again in 2016 have allowed him to share his story with a broader audience, as well as his classmates, said teacher Bethany Bradley, who accompanied Vasquez to Carnegie Hall to gain his awards.
Regional entries for Scholastic Art & Writing Awards will be accepted from Sept. 15-Dec. 15, 2016 as teachers throughout Harris County begin entering their students' work electronically to be judged by professionals who volunteer their time.
Last year, about 8,000 entries were received. This year, Segraves expects that number to climb substantially. Recipients of regional awards will be announced Feb. 3. Gold Key awardees will advance to nationals, where medalists will be announced in May. Ceremonies at Carnegie Hall are held in June.
"We actively look for judges who would like to be involved and sponsors who might want to provide venues for students to showcase their work or scholarships for students to travel to New York City when they earn national awards," said Segraves. For more information, go to www.hcde-texas.org/scholastic .