Starbucks CEO Howard Schultz Endorses Hillary Clinton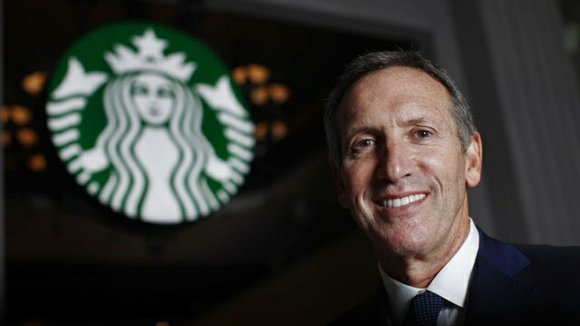 By Heather Long
NEW YORK (CNNMoney) -- Howard Schultz, the CEO of Starbucks, endorsed Hillary Clinton for president on Wednesday.
Schultz is one of the country's most politically outspoken chief executives, but until now he had not taken sides in the 2016 race between Democrat Clinton and Republican nominee Donald Trump.
"Hopefully Hillary Clinton will be elected president," Schultz told Poppy Harlow in a Facebook Live interview ahead of the first-ever CNNMoney American Opportunity conference in New York.
Schultz, who calls himself a "lifelong Democrat," endorsed Barack Obama for president in 2008 and again in 2012.
The coffee chain CEO also opened the door for his own possible run for the White House one day.
"I'm still a young man," he said Wednesday.
Schultz has a long history of advocating for civic engagement. In a speech to Starbucks shareholders last spring, the billionaire exec said he fears the opportunities that allowed him to achieve his American Dream have fallen out of the grasp of too many people.
Schultz donated to Obama's campaign in 2008, according to the Center for Responsive Politics.
The-CNN-Wire
™ & © 2016 Cable News Network, Inc., a Time Warner Company. All rights reserved.