Houston College of Law Establishes Low-Income Taxpayer Clinic to Benefit the Community and Students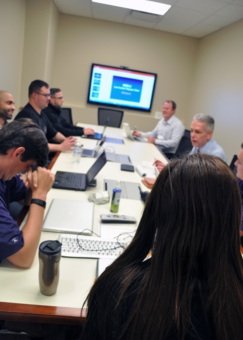 In addition to working one-on-one with clients in the clinic, Houston College of Law staff and students will deliver educational presentations on topics pertaining to low-income and English-as-a-second-language taxpayers. These seminars will be held off-campus at community centers and other locations and will address issues such as tax filing requirements and deadlines, record-keeping, deductions, identity theft, tax rules for immigrants, the collections process, the earned taxpayer credit, and the Taxpayer Bill of Rights.
"I am extremely grateful for the opportunity to participate in Houston College of Law's Low-Income Taxpayer Clinic," said Hannah Craft, a third-year student at the law school. "The clinic is an amazing opportunity – especially for a law student with a full-time job who is unable to participate in conventional legal internships – to gain real-world experience in tax research and controversy. Through the LITC, I am able to provide assistance to those less fortunate in my community and develop valuable, practical legal skills prior to graduation."
About Houston College of Law:
Founded in 1923, Houston College of Law (formerly South Texas College of Law) provides a diverse body of students with the opportunity to obtain an exceptional legal education, preparing graduates to serve their community and the profession with distinction and to be a positive force for change. The law school develops some of the country's best litigators, advocates, negotiators, and transactional lawyers, but also empowers every student with something equally valuable: The unshakable notion that a legal education is a tool for making the world a better place. For more information, please visit www.hcl.edu.