AIDS Foundation Houston Hosts Annual World AIDS Day Luncheon on Dec. 1
Writer and HIV activist Sean Strub to deliver keynote address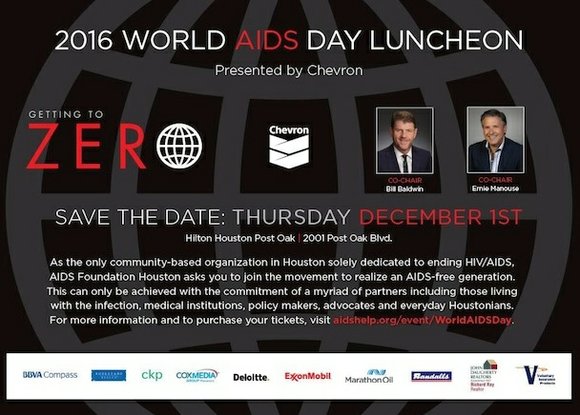 HOUSTON, TX — AIDS Foundation Houston, together with event chairs Bill Baldwin and Ernie Manouse, will host the annual World AIDS Day Luncheon, generously presented by Chevron, on Thursday, Dec. 1 at 11 a.m. at the Hilton Houston Post Oak. AIDS Foundation Houston is the only community-based AIDS services organization solely dedicated to ending HIV/AIDS in Houston. The World AIDS Day Luncheon raises funds to support the organization's goal of "Getting to Zero" — zero new infections, zero AIDS-related deaths and zero stigma.
Bill Baldwin (owner, Boulevard Realty) and Ernie Manouse (senior producer/host, Houston Public Media), who have both supported AIDS Foundation Houston in various capacities throughout the years, are returning for their second year as co-chairs of the World AIDS Day Luncheon. Together they welcome writer and HIV activist Sean Strub as the keynote speaker.
Sean Strub is a longtime HIV survivor, founder of POZ magazine, director of the Sero Project and an advocate for PLHIV-led advocacy and PLHIV networks. He is the author of Body Counts, A Memoir of Politics, AIDS, Sex and Survival (Scribner, 2014). His short film, HIV is Not a Crime, has introduced the problem of HIV criminalization to audiences worldwide. A longtime activist, he was the first openly HIV positive person to run for the U.S. Congress, produced the off-Broadway hit The Night Larry Kramer Kissed Me and served as a member of the board of the Global Network of People Living with HIV.
Through this annual event, AIDS Foundation Houston raises critical funds that support ending new HIV/AIDS infections and helps those who are infected. Individual tickets start at $150 per person, with corporate and individual underwriting opportunities available from $1,500. For more information or to purchase tickets, visit www.AIDSHelp.org.


About AIDS Foundation Houston, Inc.
AIDS Foundation Houston, Inc. (AFH), founded in 1982, was the first AIDS Service Organization in Texas and remains a national leader in HIV/STD programming. Focusing on preventing new HIV infections, and providing housing and supportive services to those already living with HIV/AIDS, AFH provides care to almost 6,000 men; women and children affected by HIV/AIDS and will educate more than 90,000 people throughout Texas. For more information, please visit www.AIDSHelp.org.
EVENT:
AIDS Foundation Houston's Annual World AIDS Day Luncheon
WHEN:
Tuesday, December 1, 2016
11 a.m. – 1 p.m.
WHERE:
Hilton Houston Post Oak
2001 Post Oak Blvd, Houston, TX 77056
TICKETS:
Individual tickets from $150; tables from $1,500
CO-CHAIRS:
Bill Baldwin, owner, Boulevard Realty
Ernie Manouse, senior producer/host, Houston Public Media
KEYNOTE:
Sean Strub, writer and HIV activist
MORE INFO: