Microsoft and Texas Women's Empowerment Foundation Host Technology Summit for Women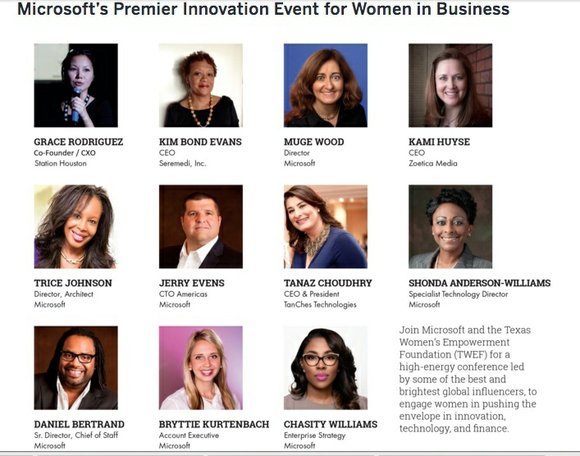 HOUSTON, TX – August 25, 2016 – Microsoft and the Texas Women's Empowerment Foundation (TWEF) partner to host a powerful Women in Innovation one-day summit focused on empowering women across all industry sectors in areas of innovative thinking and collaborative growth hacking, helping women to step out of their boundaries and into new dimensions of introspection to solve globally complex problems of this era.
This highly anticipated event will take place on Thursday, Oct. 6, 8 a.m. – 3 p.m. at the JW Marriott Galleria.
Through interactive panel discussions, TED-style lectures, and a networking luncheon with dynamic visionaries, aspiring women leaders from a broad cross section of industries will have unparalleled opportunities to learn how to thrive in today's digital economy.
Global influencers, executives, entrepreneurs, and business and technology leaders will converge to share valuable insights to help women in business tap into a new wealth of knowledge and innovation that will help them reinvent and transform interpersonally and professionally.
"Microsoft is deeply committed to diversity and inclusion and empowering women, so we're excited lead this important event. There's no better time than now for women to take a seat at the table and not only explore state-of-the-art strategies to solve 21st Century problems, but also share their ideas and growth-hack collaboratively to deliver fresh ideas to market," said Trice Johnson, Microsoft Director/Architect and event organizer. "We believe women will walk away from this conference with action steps to solve some of the most pressing issues in their businesses, communities, families and even across the globe."
In addition to the panel discussions and talks, the conference also features a networking luncheon that allows women to take advantage of the opportunity to personally converse and exchange ideas with the featured dynamic, sought-after thought leaders.
Tickets are currently available for purchase to this signature event designed specifically for women who are ready to tap into to new levels of innovation to achieve more in business, community, and personal living.
The Women in Innovation conference is part of TWEF's annual International Financial Leadership Summit, where entrepreneurs, students and business professionals receive access to powerful connections, tools and resources to help them reach the next level in their personal and professional lives. The summit also includes "Conversations with Microsoft," a speed interview session with more than 600 attendees to discover diverse talent.
About Microsoft
Microsoft (Nasdaq "MSFT" @microsoft) is the leading platform and productivity company for the mobile-first, cloud-first world, and its mission is to empower every person and every organization on the planet to achieve more.
About TWEF
Texas Women's Empowerment Foundation is a nonprofit organization geared toward helping families reach their fullest potential in the areas of business, education, finances and socio-economic status. The Foundation works to achieve these goals through programs aimed at helping families achieve and maintain a sense of empowerment that manifests through life performance.
Speakers
Grace Rodriguez, Co-Founder/CXO, Station Houston (Keynote Speaker)
Trice Johnson, Director, Architect, Microsoft
Bryttie Kurtenbach, Account Executive, Microsoft
Chasity Williams, Enterprise Strategy, Microsoft
Kami Huyse, CEO, Zoetica Media
Innovation "Growth Hack" Panelists
Kim Bond Evans, CEO, Seremedi, Inc. (Moderator)
Muge Wood, Director, Microsoft
Daniel Bertrand, Sr. Director, Chief of Staff, Microsoft
Tanaz Choudhury- CEO & President, TanChes Technologies
Jerry Evens – CTO Americas, Microsoft