Seychelles Tourism Board and Turkish Airlines Meet With the French Travel Trade to Present Flights to the Seychelles islands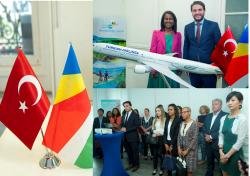 The Seychelles Tourism Board Office in Paris joined the Turkish Airlines Paris team to present the airline's forthcoming flights to the Seychelles to French travel operators.
The cocktail event was held on Tuesday, September 6, 2016 in the airline's office. In a relaxed casual atmosphere, the airline team, led by its General Manager M. Rafet Sisman, presented to the French travel professionals their product, its wide network, and the different flight options possible from the 6 cities in France and other Swiss, German, and Spanish neighboring cities which the French market can also use for its proximity.
While the travel professionals mingled and sought additional information from the team members present, the flying chef flown in from the Turkish capital especially for the event, ensured that the partners had a feast of typical delicacies both sweet and savory as well as a local drink.
Mr. Rafet Sisman, the General Manager, said: "We are pleased to announce our flight to the Seychelles which will be the 292th destination serviced by our airline. We look forward to welcoming the first guest onboard to the Seychelles."
Mrs. Bernadette Willemin, the Seychelles Tourism Board Director for Europe, added: "The Seychelles tourism industry welcomes an additional carrier to our shores. This will give our visitors additional flight options, and we hope that it contributes towards increasing our business and market share."
The carrier will commence services from Istanbul to Mahé on October 31, 2016 and will operate 3 times a week using a TK748 inbound and TK749 outbound.