DA Debate Dominates Local Races
Burt Levine | 9/30/2016, 10:33 a.m.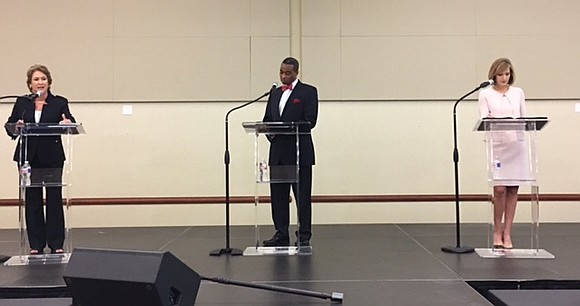 While the biggest debate audience ever for a U.S. President debate was setting its sights on the later show, those in attendance at Windsor Village United Methodist Church Monday night (September 26th) watched Republican District Attorney Devon Anderson put on defense against challenger Kim Ogg in a District Attorney debate.
"We have a justice system that should rely upon evidence, but instead is being run by prosecutors who are led apparently by a win at-all costs philosophy," said Ogg, an award winning former prosecutor and Assistant DA herself who led the Houston Mayor's Anti-Gang Task Force. She went on to be the head of the most powerful Crime Stoppers office in the country before building her own criminal defense practice and then running for DA in 2014. In that race, Ogg won more votes or a higher percentage of votes than any Democratic nominee county-wide.
"I have a vision for a justice system that treats us all the same under the law and tries to help people and not just convict them," the popular Ogg said in her marquis remarks to the incumbent who was appointed to the office after her late husband Mike Anderson won in 2012.
Headlines throughout the past year have focused on Anderson's broadcasted issues ranging from pro-life demonstrators at Planned Parenthood being charged with trespassing, evidence being lost at constable offices, deaths in the jail and a mentally ill rape victim being jailed and mistakenly being charged as a rapist. Anderson said she regrets the situation but it led to the attacker getting two life sentences. In her own answer, Ogg referred to her mother having been kidnapped and then escaping from a known serial rapist as something that led her to her life of fighting for justice and crusading against horrific criminals. "Making a rape victim re-live the assault and their torture by having to go over it in public in front of a judge and jury is never worth it. There were so many other options that could have been taken," she said about the case that grabbed national attention.
Khambrel Marshall, anchor at KPRC, moderated the debate and led the ladies on the stage to the issue of missing evidence. Ogg said the evidence should have been dealt with when discovered. Not in August when it was revealed by a defense attorney.
Ogg pointed out that the role of the DA should be that of seeking justice. She further added a system in which 44 percent of jail inmates are African American in a county 19 percent African American is a system led by a DA failing her citizens.
Anderson attacked Ogg aggressively accusing her of being an opportunist in her approach to win the county's top law enforcement office. "It's apparent for anybody who listens to Ms. Ogg she's clearly not fit to be DA," she said.
Boos were heard from many of the more than 300 people, including many Black Lives Matter t-shirt wearing African American and Caucasian, that filled the hall as they laughed when Anderson said she brings transparency and responsiveness to being DA and that Ogg doesn't get along well with others.
Will Anderson continue on as DA or will Ogg take over? Cast your vote this fall. The last day to register to vote in the November 8th election is Tuesday, October 11th. Early vote is Monday, Oct. 24th through Friday, Nov. 4th.
Keep in the know on Houston area politics and Houston area elections with Burt Levine. Share this story online at www.stylemagazine.com.