Komen Houston: Our Journey is Long From Over to End Breast Cancer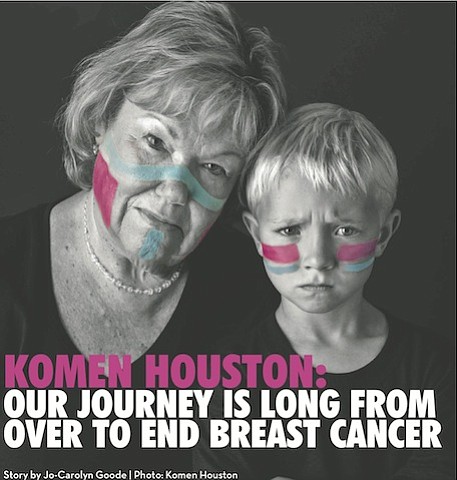 Seventeen years ago life was very different for Kathy Nicholson. Her world was filled with endless tubes, multiple rounds of medicine, countless doctor visits, intense surgeries, days in the hospital, lots of research and hours of prayer by her and her support team. Nicholson had breast cancer and was in the fight for her life; a fight that she planned to win. And win she did. It would be 9 ½ months of treatment, 6 months of chemotherapy, and 6 1/2months of radiation before her world would start to take a turn back to normalcy. Tack on another 10 years of taking hormone inhibiting drugs before Nicholson could finally breathe a sigh of relief as her personal journey in fighting cancer in her body was over. But her journey against cancer was just beginning.
Two weeks after she finished her rounds of chemotherapy and radiation on September 15, 2000 (yup, she remembers the date), Nicholson celebrated. Not with a big party or binging on cake but with a walk. Unbelievable I know. I thought so too. However, Nicholson is made of strong stuff and thought the cause was way too important to stay lying in bed. So she laced up her shoes, donned her pink, and participated in her first Susan G. Komen Race for the Cure. With that one walk, she was hooked.
Sixteen years later Nicholson is a proud 17-year breast cancer survivor, member of the Board of Directors and the Interim Executive Director of Susan G. Komen-Houston. "I feel blessed," she says. With so many things to be grateful and blessed for, Nicholson is most thankful that her breast cancer was detected early and treatment was available.
"The reason that there are all those wonderful treatments so that people can survive this is because of organizations like Susan G. Komen raise money that goes to research and we have our wonderful doctors that are able to help us," said Nicholson.
Nicholson is one of the lucky ones. Lucky because her breast cancer was caught early since doctors were already monitoring her due to other health challenges. Even with all that monitoring, Nicholson's breast cancer was still in stage 2 at the time of her diagnosis. Who knows what her outcome might have been if it were not for that monitoring? "Early detection is the key," said Nicholson, who now actively advocates for early detection and screenings. If done on a regular basis coupled with personal breast exams could be the difference in life or death.

"The earlier you can find this stuff the easier it is for your treatment. That's not to say if you catch it very early that you are not going to have to struggle through it because it's still a struggle. But if you catch it earlier your treatment is going to be, in most cases, a lot less severe."
In this country every two minutes someone hears the news, "You have breast cancer." Instantly your brain goes through so many thoughts and emotions and you ask yourself all these questions. "Who will take care of my family?" "Do I have enough insurance to cover my treatments?" "Will I die?" Funding raised by Susan G. Komen helps to ease some of those burdens and answers some of those questions. Their entire purpose is to raise money to give out grants to other organizations that provide services to make fighting cancer as easy as possible.