Komen Houston: Our Journey is Long From Over to End Breast Cancer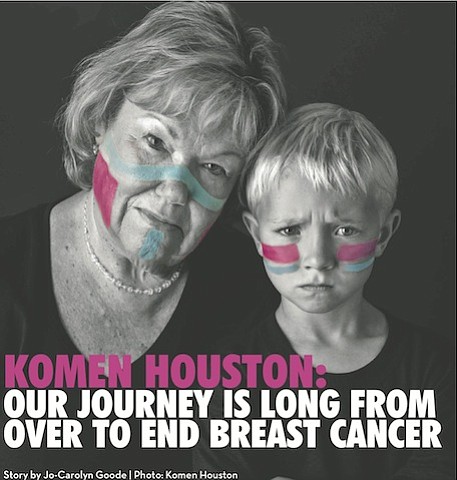 "Every dollar that we raise in Houston, Texas 75 cents stays right here in the seven county areas (Brazoria, Chambers, Fort Bend, Galveston, Harris, Liberty and Montgomery counties) for treatment, screenings, and education." Nicholson continued, "25 cents goes to Komen National but it is earmarked and can only go to research. Komen National packages that money with affiliates from all over the United States and grants that money. And because we are in Houston and our medical center is so dynamic we get a lot more money than we send. "
Money is raised at the many events that Susan G. Komen sponsors. One of their biggest sponsored events is the Race for the Cure happening this weekend in Houston. Now in its 33rd year nationwide and 25th year locally, Susan G. Komen's Race for the Cure has become the world's largest singular fundraising event for breast cancer. Every dollar raised goes straight to their mission of ending breast cancer.
Many believe in the pink power and have joined the cause but active recruits are always sought after. Don't wait until breast cancer affects your family or someone you know, get involved before you have to do so. Susan G. Komen's website has many ways to lend your support. Volunteers are needed to raise money by supporting activities that Komen has year round like the Race for the Cure on October 1st or their golf tournament on October 24th; host a third party event like a garage sale with proceeds going to Komen; serve on their education or grants committees to help decide where funding goes; and there are more ways to get involved at komen-houston.org.
Komen is always in need of help contrary to popular belief. Nicholson thinks that sometimes, especially in October, that people get a little immune to pink and the entire breast cancer cause. "They are tired of hearing about pink. And I think they assume that it is all taken care of because you see so much pink and because we have succeed in getting the message out there and bringing awareness," said Nicholson. But it is not. People are diagnosed younger and younger and are still dying from breast cancer at an alarming rate. Komen's work is far from over.
Every major breast group and breast cancer treatment in the past 30 years Susan G. Komen has had a part in it according to Nicholson. "If you are diagnose and you go get treatment, the organization Susan G. Komen is helping you. So that means everybody should get out Saturday and participate in the race and raise money to help us help you."
Houston, you have your orders. Lace up your shoes, grab your water then grab your wallet and head to downtown Houston on October 1st. After racing for the cure, be sure to donate for the cure. Every dollar helps on the journey to end cancer.
For more information, visit komen-houston.org.