Passenger Dragged Off Overbooked United Flight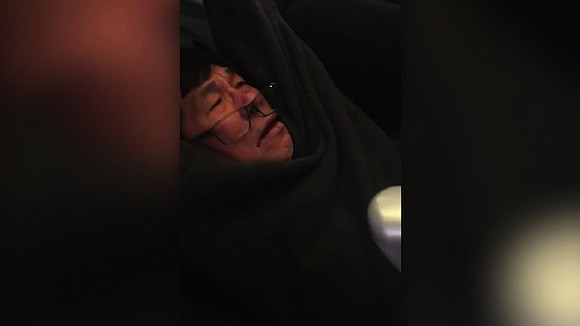 Yes, you can be 'involuntarily de-boarded'
After the man was removed, Kelley said he somehow returned to the plane with blood on his face.
King and Hobart could not explain why the passenger was allowed to board only to be forcibly removed. Nor could they confirm Kelley's claim that the man returned to the plane and was escorted off a second time, peacefully.
Overbooking is not illegal, and most airlines do it in anticipation of no-shows, according to the US Department of Transportation. If no one volunteers, the airline can select passengers for removal based on criteria such as check-in time or the cost of a ticket, according to the US Department of Transportation's Fly-Rights.
As video of the incident spread, United came under intense criticism for its handling of the situation, with people pledging to boycott the airline.
The backlash prompted CEO Oscar Munoz to issue a statement. He called the incident "upsetting" and apologized "for having to re-accommodate" customers.
"Our team is moving with a sense of urgency to work with the authorities and conduct our own detailed review of what happened. We are also reaching out to this passenger to talk directly to him and further address and resolve this situation,"
The Chicago Department of Aviation said in a statement that the incident "was not in accordance with our standard operating procedure and the actions of the aviation security officer are obviously not condoned by the Department."
That officer has been placed on leave effective today pending a review of the situation, the statement added.
What about the crew members?
The four crew members did indeed board the plane, and it wasn't pretty, Bridges said. Passengers berated them, told them they should be ashamed of themselves and embarrassed to work for this company.
"They just sat down quietly, it was super tense on the plane. Everyone was really unhappy after seeing this man pulled off," he said.
"I think United messed this up on the front end," Bridges added. "It shouldn't have gotten to the point where there's a man on the plane or four people on the plane that have to be removed after they've already taken their seat. If they were overbooked they should have only let people on the plane that were going to be able to leave on the plane."
CNN's Mayra Cuevas, Deanna Hackney and Rene Marsh contributed to this story.