Lily Collins' Pen Pal? Michelle Obama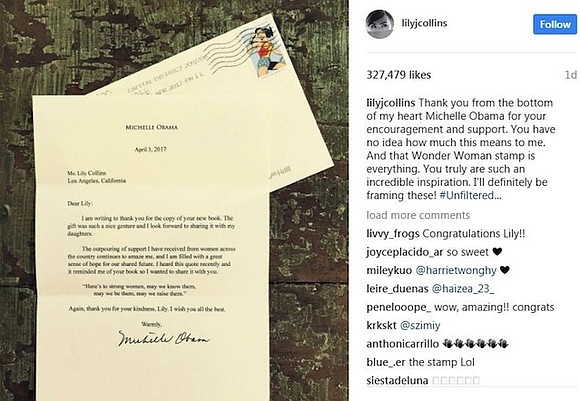 By Lisa Respers France
CNN
(CNN) -- And you thought you were having a good week.
Actress Lily Collins took to Instagram to express her excitement about receiving a special missive.
"I can't believe this letter I received from someone I deeply respect and admire," Collins said in the caption to a video she posted. "It's absolutely epic. I'm in complete shock but just had to share!"
Collins then proceeded to read a letter she received from former first lady Michelle Obama.
In the midst of writing her memoir, Obama, apparently, also penned a note of thanks to Collins for her book "Unfiltered: No Shame, No Regrets, Just Me."
"Dear Lily: I am writing to thank you for the copy of your new book. The gift was such a nice gesture and I look forward to sharing it with my daughters," Obama wrote. "The outpouring of support I have received from women across the country continues to amaze me, and I am filled with a great sense of hope for our shared future."
Collins, whose book of essays explores everything from self-confidence to the strained relationship with her father, musician Phil Collins, also posted a photo of the letter.
"You have no idea how much this means to me," Collins wrote in the caption. "And that Wonder Woman stamp is everything."