Melania Trump Kicks Off 139th Annual Easter Egg Roll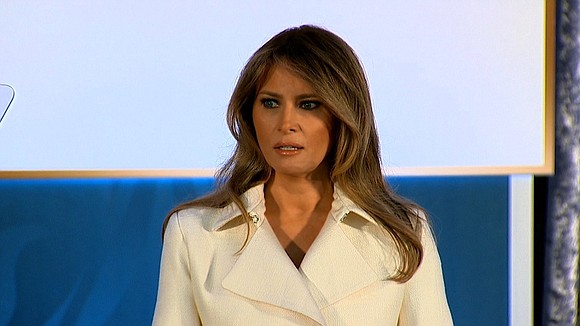 (CNN) -- Eggs were rolling -- nearly 18,000 of them -- Monday at the White House.
First lady Melania Trump, hosting the 139th annual White House Easter Egg Roll, kicked off the event alongside President Donald Trump, calling it a "wonderful tradition."
"As we renew this tradition, thank you for joining us. On behalf of the President and Barron, we wish you great fun and beautiful days coming ahead of us," she said, also thanking the military band, White House staff and egg roll volunteers for their help.
Trump, in his suit and signature red tie, also thanked the crowd of attendees gathered below the White House balcony.
"We're going to come out and join you and enjoy your company for a roll, a great Easter egg roll. And I don't know if people are going to be successful, but I know a lot of people down there are going to be successful. I've seen those kids, and they're highly, highly competitive," he said.
The formal event kicked off at 7:30 a.m. ET, with multiple waves of guests arriving in two-hour increments. There will be activities, entertainment, and, of course, the actual egg roll, in which children race wooden eggs with a spoon.
"Looking forward to hosting the annual Easter Egg Roll at the @WhiteHouse on Monday!" Trump tweeted Friday afternoon alongside a pastel watercolor image of the South Lawn.
A Trump Egg Roll
The White House Easter Egg Roll gives each first lady the opportunity to put her thumbprint on the lighthearted, family-focused event. This year, Trump's event will mark a return to tradition.
"It's a huge opportunity for an administration to put their mark, their seal on how the egg roll goes," said Tommy McFly, a Washington radio personality who emceed the event for six years under the Obama administration. "The stakes are very high. It shows the first lady's office and the visitors' office -- it really is their moment to shine, but the eyes of the country are on it, as well."
The first lady did a lot of research on previous White House Egg Rolls as she planned the event, her staff says.
"She wanted to get back to the tradition, so we're bringing back some traditional elements, like military bands, and focusing on the family itself," Stephanie Grisham, Melania Trump's communications director, told CNN.
Those traditional elements include the egg roll, an egg dying station, a cookie decorating station, an art wall, a thank-you card station where children can write notes to troops and veterans, and a reading nook.
Melania Trump made a stop at the reading nook, where she read Kathie Lee Gifford's children's book, "Party Animals."
"Did you know about the book?" Trump, seated on a small, grass-covered stage, asked the children.
"I really like the book because it shows that we are all different, but we are all the same," she said as she began reading.
Egg rolling proved to be one of the least popular activities. Children lined up for an egg hunt, decorated cookies, wrote letters to the troops, participated in a Minecraft coding activity with volunteers from Microsoft and visited characters, including several Easter bunnies.