Melania Trump Kicks Off 139th Annual Easter Egg Roll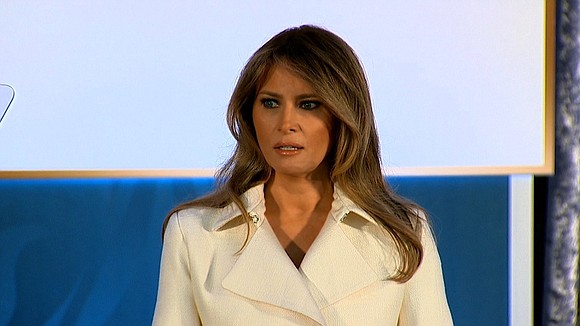 Sesame Street's Elmo was another popular character, prominently clad in an oversized PBS button. (Trump's proposed budget eliminates funding for the Corporation for Public Broadcasting.)
Volunteers handed out hard-boiled eggs on sticks. The Marine Band played selections from Sesame Street, the Muppets and Disney movies.
Attorney General Jeff Sessions and White House press secretary Spicer stopped by the reading nook to read some children's book classics. First daughter Tiffany Trump is scheduled to read later in the day, according to a tweet from her mother, Marla Maples.
"So proud of my beautiful daughter @TiffanyATrump she offered to read a story to the children 2day @WhiteHouse & will be sharing sweetness," Maples wrote.
The DC United Soccer team will do soccer demonstrations, a nod to 11-year-old first son Barron's passion for soccer. Other members of the Trump family are expected to attend as well.
Tickets were allocated to schools, children' hospitals and military and law enforcement families, as well as the families of White House staff, according to Spicer.
Planning an egg roll is a tricky balancing act, a collaboration between the East Wing, the White House Visitors' Office, and volunteers.
"The Easter Egg Roll is one of the most visible events and a time when the White House is showcased to a large number of people. And it's special because it's not just dignitaries, it's regular people and local schoolchildren," said CNN contributor Kate Andersen Brower, author of "First Women: The Grace and Power of America's Modern First Ladies."
She added: "(Melania Trump) has big shoes to fill when it comes to an event like this. Michelle Obama was a natural with kids."
Quality over quantity
The White House expected fewer guests -- about 20,000 -- than in recent Egg Rolls. More than 35,000 people attended 2016's event, the Obama's seventh and final Egg Roll, including Beyoncé, Jay-Z and their daughter, Blue Ivy Carter.
"We're really focused on quality of the experience over quantity of attendees," Grisham said.
There had been small warning signs that things might not have gotten off to the fastest start. Wooden egg manufacturer, Maine's Wells Wood Turning, had to gently remind the White House of the ordering deadline via a tweet in late February.
"FYI manufacturing deadlines for the Easter eggs are near. Please reach out!" the account wrote.
McFly said in years' past it was "one of the Visitor's Office's marquis events," and he would get contacted "months in advance."
"There was no outreach from the Trump East Wing staff to find out how the Easter Egg Roll had been run in the past as of February, when these discussions should have been well underway," Andersen Brower said.
Nevertheless, all the asks -- and eggs -- were made.
Wells Wood Turning crafted 18,000 custom commemorative wooden eggs that will be given to each child in attendance. They arrived at the White House last week in five colors, including, naturally, a shiny gold.