Ossoff Falls Just Short In Georgia Special Election As GOP Gets Wakeup Call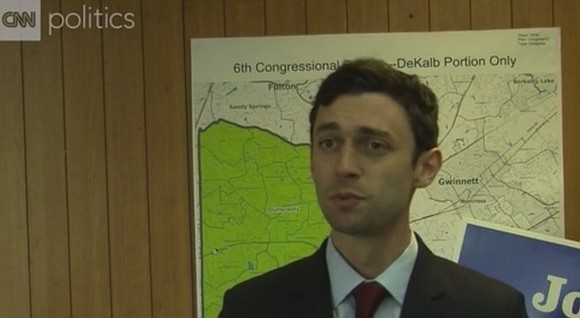 The near-death experience for Republicans -- on the heels of one a week earlier in Kansas, where Democrats nearly flipped a deep-red district -- could still have the effect of leading GOP lawmakers in competitive states and districts to seek distance from the President, making it even more difficult for Trump to advance his agenda on Capitol Hill.
In Tuesday's results, Democrats saw more evidence of a playing field for the 2018 midterm elections that has drastically expanded -- and given the party's 10 senators up for re-election in states that Trump won some breathing room.
"To me, what's amazing is that we continue to see this level shift across the country, a 20-point swing, that puts about 123 Republican seats potentially in play," said Daily Kos founder Markos Moulitsas.
"At that point, very little is off the map, and getting the 24 seats we need to take back the House is suddenly a real possibility, GOP gerrymander or not," Moulitsas said. "It also potentially puts the Senate in play, while certainly protecting our endangered red-state incumbents. All of this, and we're still in Trump's supposed 'honeymoon' period."
Attention shifts to runoff election
Republicans have long believed that -- particularly with such high turnout in Tuesday's contest -- Ossoff would near his high-water mark in the jungle primary and have little room to grow his support in the runoff.
There are few parallels to draw because the race is a special election with unique dynamics, and because of the unusual primary in which the top two finishers would advance, regardless of party.
One that would trouble Democrats and reassure Republicans came in a 2006 special election for California's 50th District House seat. There, Democrat Francine Busby won 44% of the vote in the jungle primary -- well ahead of Republican Brian Bilbray's 15%. But in the one-on-one runoff, Busby was stagnant, earning 45%, while Bilbray surged to 49% support in the conservative district.
Democrats, meanwhile, saw Handel -- whose 55th birthday was Tuesday -- as the Republican against whom they would fare the best, in part because of her conservative stances on social issues and attacks on Planned Parenthood.
Handel lost a 2010 race for governor and a 2014 Republican Senate primary and was accused of overspending as a county commissioner in a 2017 jungle primary attack ad from the conservative Club for Growth. She was hammered by Republican foes in the runoff who aligned themselves with Trump -- raising the prospect that those Trump voters could skip the runoff entirely.
Handel's efforts as secretary of state to purge Georgia's voter rolls by requiring voters to prove their citizenship led to fights with the Justice Department's Civil Rights Division.
In an interview last month, Democratic National Committee Chairman Tom Perez -- who led the Civil Rights Division during President Barack Obama's first term -- said voters would hear "a lot" about Handel's efforts to require voters to prove their citizenship if she advanced to the runoff.
"Secretaries of state matter, and when they're good, then people can actually vote who are eligible to vote. And when they're following the ALEC playbook of the far right, they make it harder for people to vote," Perez said, referring to the conservative American Legislative Exchange Council.
Perez told "New Day" on Wednesday said Trump was too celebratory too early.
"He spiked the football quite early, Chris," Perez told CNN's Chris Cuomo. "(I'd) rather be Jon Ossoff than (Republican candidate) Karen Handel right now."
CNN's Jim Acosta and Josiah Ryan contributed to this report.
For more information go to http://www.cnn.com