The Rise And Fall Of Aaron Hernandez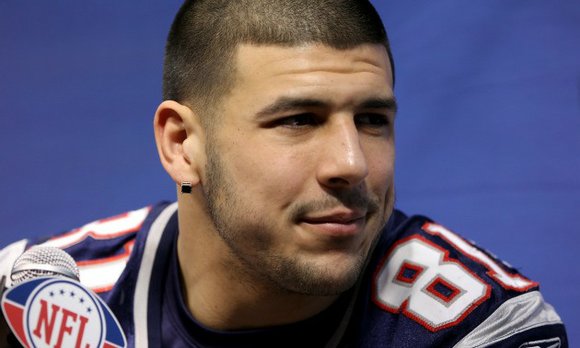 Before the draft, Hernandez was expected to be a first- or second-round pick. He was passed over until the fourth round, when the Patriots selected him.
By the end of his second season, he was a bona fide star, landing the $40 million contract extension and playing a key role in the Patriots' 2011 AFC Championship season.
In 2013, less than a year after signing that lucrative new deal, Hernandez was arrested and charged with Lloyd's murder. The Patriots dropped him the same day.
The murder that changed everything
On June 17th, 2013, a jogger found a body riddled with gunshot wounds at an industrial park in North Attleboro, Massachusetts. The victim was Odin Lloyd, a semi-pro football player for the Boston Bandits and a friend of Hernandez's.
The two men had a complicated relationship.
Lloyd was dating Shaneah Jenkins, the link between the young man who dreamed of the NFL and the all-American who made it.
Jenkins is the younger sister of Shayanna, who was engaged to Hernandez at the time and is the mother of his young daughter.
Prosecutors say Lloyd was last seen the morning of his murder with Hernandez and Hernandez's two associates, Carlos Ortiz and Ernest Wallace, around 2:30 a.m. in a rented silver Nissan Altima.
Surveillance video from security cameras at an industrial park showed an Altima heading toward a secluded area at 3:22 a.m.
At the same time, chilling text messages from Lloyd's phone were sent to his sister telling her he was with "Nfl," adding, "just so u know."
Between 3:23 and 3:27 a.m., workers nearby reported hearing gunshots. At 3:29, a camera showed an Altima pulling into Hernandez's driveway, about a half a mile from the death scene.
Three people got out of the car, and Lloyd was not one of them.
A life sentenced
Nine days after Lloyd's death, Hernandez was arrested and charged with first-degree murder and other weapon-related charges.
In April 2014, Ortiz and Wallace were also charged in Lloyd's slaying. Wallace was eventually acquitted, and Ortiz took a plea deal that dropped the murder charge.
Hernandez's fate was different.
In April 2015, Hernandez was found guilty of first-degree murder, along with several other charges. He was sentenced to life in prison without parole.
After the trial, Bristol County District Attorney Thomas Quinn said what so many devastated supporters and onlookers had been feeling for years: Hernandez had squandered an opportunity for greatness and turned instead to the unthinkable.
"Aaron Hernandez may have been a well-known New England Patriots football player. However, in the end, the jury found that he was just a man who committed a brutal murder," Quinn said. "The fact that he was a professional athlete meant nothing in the end. He is a citizen who was held accountable by the jury for his depraved conduct."
While in prison, Hernandez also went on trial for a 2012 drive-by shooting that took the lives of two men outside a Boston nightclub. This April, Hernandez was acquitted of both murders in what was seen as a victory despite his life sentence.
A troubled end to a troubled story
Since Hernandez has been behind bars, his team -- the team he was supposed to build his future with -- has gone on without him. The New England Patriots have won two Super Bowls since 2013. While Hernandez has been shuffled between courtrooms and jail cells, his former teammates and friends have become superstars.
On the same day the Patriots was supposed to visit the White House to celebrate their 2017 Super Bowl win, Hernandez hanged himself in his cell at the Souza Baranowski Correctional Center in Shirley, Massachusetts.
His former team has yet to comment.
For more information go to http://www.cnn.com