Seaworld Welcomes Last Killer Whale
Historic Birth at San Antonio Park Marks New Era for SeaWorld Parks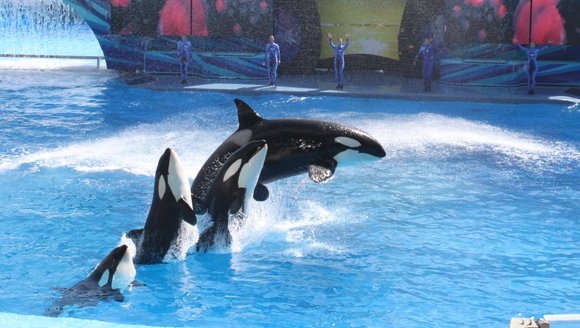 SAN ANTONIO, TX (April 19, 2017) –SeaWorld is excited to announce the birth of the newest member of the SeaWorld family of killer whales. Takara, the 25-year-old matriarch of the orca pod, gave birth to the calf at 2:33 p.m. Central Time, April 19, 2017, at SeaWorld San Antonio. A team of veterinarians and animal care specialists witnessed the historic birth and are continuing to monitor Takara and her new baby 24-hours-a-day to help ensure a successful start.
Guests at SeaWorld San Antonio will have the opportunity to visit and observe Takara and her calf in the near future during select times. Although this will be the last opportunity for SeaWorld guests to see a baby killer whale up close as it grows and matures, SeaWorld will continue to care for the orcas at its parks for decades to come.
"This is an exciting and emotional day for us at SeaWorld and we are all so proud to share this new killer whale calf with the world, after a year and a half of planning, and observing and providing all the special care," said Chris Bellows, Vice President of Zoological Operations. "Takara is a great mom and immediately began bonding with and caring for her new baby. Everyday she inspires SeaWorld's guests to learn more about and do more to protect animals in the wild. She is a true ambassador."
Julie Sigman, an Assistant Curator at SeaWorld San Antonio who has been with Takara through three of her last pregnancies and births, expressed her excitement at watching the calf surface to take its first breath. "Nothing can prepare you for that moment when mom helps the calf get to the surface for its first breath. The moment the calf is born, Takara is 100% focused on the care and well-being of that baby. She knows exactly what to do. It is amazing," said Sigman.
"Takara will continuously swim with her calf as it begins to nurse and learn," added Sigman. "We take our lead from mom, Takara will let us know when she is ready for us to meet the calf and at that time we should be able to determine the gender."
Takara, born at SeaWorld San Diego, has had four other calves, which now range in age from 3 to 15 years. Takara was already pregnant as a result of natural breeding when the announcement to end orca breeding was made in March 2016.
"Although this is the last killer whale birth at a SeaWorld park, our work to understand and protect this species will continue for decades to come," said Dr. Hendrik Nollens, Vice President of Veterinary Services for SeaWorld Parks & Entertainment. "Takara and her calf are an important part of not only educating the visitors who see them at the parks, but also ongoing research that helps marine biologists understand how to better care for and protect orcas in the wild. We are very pleased that this birth will be able to continue to add to this body of knowledge for this iconic species."