Ivanka Trump Arrives in Berlin to work On Special Relationship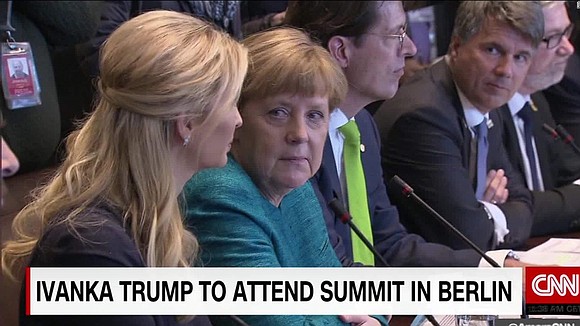 By Betsy Klein
CNN
BERLIN (CNN) -- It could be the beginning of a beautiful friendship, after all.
In the wake of a mid-March White House visit characterized by awkward moments -- President Donald Trump apparently declined to shake German Chancellor Angela Merkel's hand in the Oval Office and he made an uncomfortable joke about wiretapping on live television -- his most trusted adviser, daughter Ivanka Trump, arrived in Germany Tuesday.
Ivanka Trump's Berlin trip features a jam-packed day, including panel appearances and dinner with Merkel. This is her first international trip since her father assumed office. (The President has yet to travel abroad himself.)
With this trip, Trump, who was invited directly by Merkel, is indicating the importance of US-German relations, perhaps solidifying the country's fledgling relationship with the Trump administration after a rocky start.
The schedule
Following an overnight transatlantic flight, Trump kicked off a whirlwind day at the US Embassy in Berlin, where she met with embassy staff and their families.
She then participated in a panel discussion on women's empowerment and entrepreneurship at the W-20, a summit of G-20 countries aimed at promoting women's workforce participation and equality.
Asked about her role in her father's administration -- and whether she represented her father, the American people or "your business" -- Trump acknowledged she was "rather unfamiliar with his role ... as it is quite new to me."
"I'm listening, I'm learning, I'm defining the ways in which I think I'll be able to have impact," said Trump, one of eight participants, including Merkel, Queen Màxima of the Netherlands, and International Monetary Fund director Christine Lagarde.
She was later asked if the President was an "empowerer of women" given some of his past comments. Ivanka Trump brushed aside any concerns.
"I know from personal experience, and I think the thousands of women who have worked with and for my father for decades when he was in the private sector are a testament to his belief and solid conviction in the potential of women and their ability to do the job as well as any man," she replied.
Following the panel, Trump will tour Siemens Technik Akademie, where she will speak with program apprentices.
She will also pay her respects at the Memorial to the Murdered Jews of Europe, a large series of concrete rectangular slabs of various heights. Her husband, Jared Kushner, is the grandchild of Holocaust survivors. Trump converted to Judaism herself in 2009.
In the evening, Trump will join Merkel at a W-20 gala dinner.
The visit comes at a time when the Trump administration has not yet appointed a new ambassador to Germany, and there is no White House chief of protocol, an important diplomatic role. Chiefs of protocol hold the rank of ambassador and they accompany presidents on foreign trips and coordinate visits of foreign dignitaries to the US.
German reception
Trump's trip is one of the top news stories in Berlin, her face splashed across multiple front pages.
"First Flüsterin" was daily newspaper Berliner Zeitung's Monday headline. Translation: "First Whisperer."