Power Up with Tommy, Julio, Dre and AT&T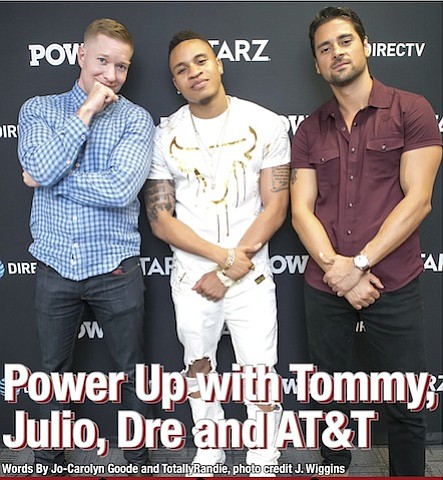 We saw just how disloyal the streets could be as the character of "Dre" (played by Rotimi Akinosho) began to unfold. A young father from "the hood" whom Ghost portrayed by James St. Patrick attempts to save by showing him the "legal" side. Dre pushes back so hard that Ghost is left no choice but to reveal himself and bring Dre in. Dre is given busy work (looking after James son Tariq (Michael Rainey Jr.)) to show his loyalty and build trust, but he has slowly turned into a not-so-trustworthy associate. He credits the writers for the elevation in Dre's game. "The writers are giving me a lot more to play with because I am also trying to grow as an artist. So when you are with amazing actors like my guys right here you have to work hard. You have to step your game up. But the way Dre is moving it is humbling to be a part of one of the best shows of all time and start growing in that is a blessing," said Akinosho.
During the meet and greet with fans, the actors showed more of themselves that revealed how intelligent and funny they all are. One of the biggest laughs came from their craziest fan moments that range from J.R. having panties thrown at him, a woman sneaking in to watch Rotimi release himself in the restroom and another woman wanting Joseph to choke her. What?!
Then the tables would turn for the guys to show how they are very much perfectionists and their own worst critics. It is no doubt that they are all fans of show but fans of themselves is another question. "I am a hard critic on myself," admits Sikora. "You find out everything you did wrong and then people give you credit for something you are doing great and you are very grateful." Akinosho also shared that he criticizes himself as well when he watches the show in private. Ramirez probably would critic himself, if he ever watched himself. "I can't stand to see or hear myself." He continued, "but I do say this is the first thing that I have ever done in my career that I would completely watch it if I wasn't apart of it. It's fire. Its power, yo. It's such an amazing show."
Throughout the night fans learned more and about the cast as they won prizes from AT&T. Before closing out the event, the AT&T store was turned into a club reminiscent of Truth as Rotimi took to the stage to drop two of his latest songs while he is on the 'Don't Matter' Tour. The crowd went wild! Utilizing the trusted AT&T network, we went live on Facebook to give loyal fans of the show a tease of the performance!
It was a long night but no matter the length the cast proved their loyalty to their fans. Rows of people went on and on and the guys made sure to take AT LEAST ONE photo with every last one of them before exiting the building.
See more of Sikora aka Tommy, Ramirez aka Julio and Akinosho aka Dre on Sunday nights on "Power" on the Starz network. If you have the STARZ app, you can watch the show Saturday at Midnight, which is technically Sunday morning. But please no spoilers! For more information, visit: https://www.starz.com/