Amid Opioid Crisis, Some Patients Turn to Tech Alternatives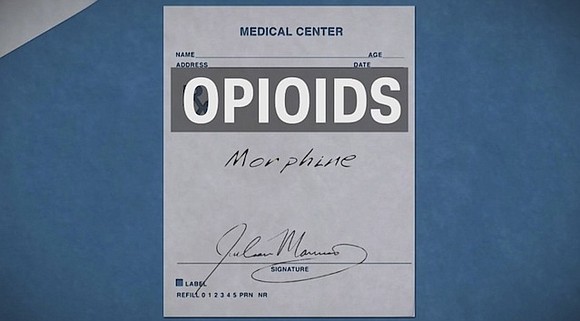 Patients are "absolutely" more cautious about taking opioids now, according to Stephen Leffler, chief medical officer at the University of Vermont Medical Center.
"I frequently see [patients] who say 'I don't want opiates for this,'" Leffler said. "People are definitely acutely aware of the risk of opiates and opiate addiction."
Although devices that use electrical stimulation to alleviate pain aren't new, there are more options on the market now.
Beyond Sprint, there are simple devices like a Tens unit, which can be purchased at a pharmacy for around $50. Other small devices require a permanent implant to stimulate the spinal cord.
The devices work by stimulating nerves electrically at a high enough frequency for a certain period of time, creating what feels like a vibration.
"You trigger the pain centers in the brain to produce your own pain modulators called endogenous opioids," said Shai Gozani, the founder and CEO of NeuroMetrix, which makes a tech wearable for chronic pain called Quell. "They're opioids but natural opioids."
This essentially tricks the body into overproducing these natural opioids, interfering with pain signals reaching the brain.
NeuroMetrix's Quell wearable also works on this general principal. The device -- which was cleared by the FDA for chronic pain three years ago -- looks like a knee brace and has Bluetooth capabilities. It works with an accompanying app that can track sleep and various other health metrics.
"I should point out that it does not work for everybody," Gozani said. "You don't know who's going to benefit."
About 81% of patients in Quell's clinical study saw a general improvement in their chronic pain. But similar to SPR's trial, there's little information about the device's effectiveness beyond the company's own data.
That is a concern among experts.
"There is a need for independent research on any medical treatment. This helps everyone in the field understand the true efficacy," said Andrew Huhn, a postdoctoral fellow in the behavioral pharmacology research unit of Johns Hopkins University School of Medicine.
There also haven't been studies about which type of pain these devices are most useful for.
Some users have complained that these wearables can cause skin irritations from the band, but otherwise, no adverse side effects have been reported thus far.
Anna Lembke, a Stanford associate professor and chief of the Stanford Addiction Medicine Dual Diagnosis Clinic, said the technology is a promising alternative for patients to consider because the method is less risky than drugs.
"Anything we can promote that's shown to be effective -- that doesn't involve ingesting an opioid -- is a good thing," Lembke said.