A Taste of India In the Heart of Pakistan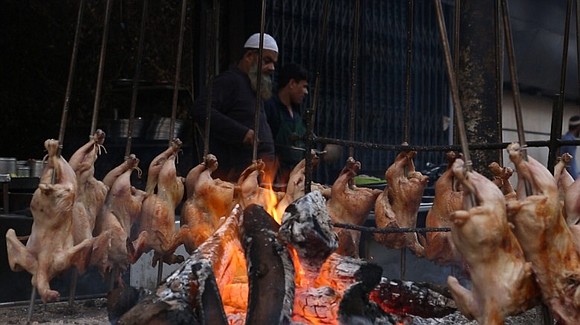 Much of the old guard who set up shop here have died out and it is left to their children to continue the tradition of dishing out good food.
Haji Mohammad Yusuf is one of those second-generation storekeepers. He runs the Delhi Rabri House, one of Burns Road's most popular dessert joints. On special occasions -- like Ramadan, the Muslim holy month; Eid al Fitr, the celebration at the month's end; or weddings -- Karachiites make a beeline for his store to stock up on the ubiquitous white and blue boxes of rabri, the South Asian equivalent of clotted cream. Rabri is a sweet dish made from boiling sweetened milk and collecting the layers of cream to create a thick, rich mass.
As his staff ladle out heaping spoonfuls of rabri to waiting customers, Yusuf stands inside his air conditioned tube-lit shop and reminisces about the past.
"My family had a milk shop in Delhi and we sold rabri," he says.
"When we came here, we had nothing and making rabri was what my father knew best. So he set this place up, named it after his hometown and now alhamdullilah, it's still running 70 years later."
Yusuf says that while he is very proudly Pakistani, he does feel a bond with Delhi.
"It's where my family is from. I am from Karachi, I was born here but culturally I am also a Delhi Wallah. There should be better relations with India, they are our neighbors, we have much in common," he said.
"But whatever the case, the rabri you get in my shop is the best in the subcontinent," he laughs.
Close to Delhi Rabri House is Waheed's Nihari, which sells everything from mutton seekh kebabs, to keeri (bits of barbequed cow udders) and of course nihari, considered the dish of Burns Road.
Nihari is made up of choice cuts of beef, bone marrow and spices bubble in massive metal vats for up to six hours to create a thick, savory stew garnished with lemon, roughly cut ginger, garlic and green chilli, and usually eaten with naan, an oven-baked flatbread.
Waheed's store signage reads "Dehli Nihari House" -- the dish itself is said to have been conjured in Delhi during the tail end of the Mughal Empire in the 19th century. Many of the establishments that serve nihari on Burns Road claim to have been preparing this dish for generations, with recipes handed down from father to son.
"We brought our traditions here from Delhi. My parents had to flee their homes. First they went to Lahore, but their Sikh landlord kicked them out in the riots. So they came here to Burns Road and set up shop, and we've been successful ever since," explains Tanveer Ahmed, the shop's owner and the son of Waheed, the store's namesake.
Tanveer and his brother Irfan have relatives still living in Delhi and visited them in 1991, with their father.
"The places my father used to reminisce and talk about were long gone," says Irfan Ahmed. "There had been progress but the old world he and my grandfather used to talk about had vanished."