A Capital Win for Five H-E-B Quest for Texas Best Competitors - Taking Home $90K in Cash Prizes
Top Texas Product Makers Earn Placement on Store Shelves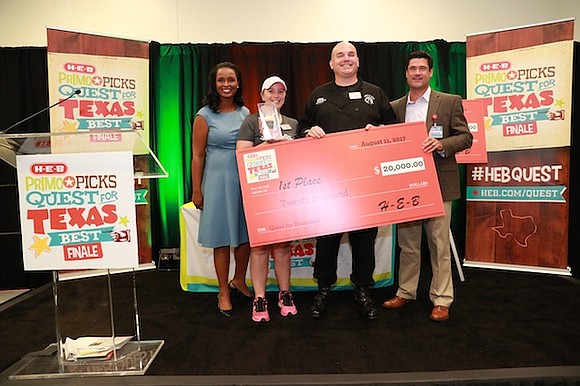 Second Place Winner ($15,000):
Tamale Addiction's Poblano & Muenster Cheese Organic Masa Tamales
Adrian + Mariana Paredes - Austin, Texas
Destiny called Adrian and Mariana Paredes in 2010. They answered and unknowingly created a new tamale standard and culture among aficionados. First entering the farmers' market circuit with Mexican desserts, they redirected their efforts to tamales. Today, Tamale Addiction is known for being fresh, organic, local and delicious with five versions that include meat, vegetarian, vegan, banana leaf and sweet tamales. By listening to their customers' demand for an at-home option, they found a way to share their destiny with all of Texas via a two-pack of organic masa tamales filled with strips of roasted poblano pepper, fresh red salsa made from chile de arbol, and melted muenster cheese.
Third Place Winner ($10,000):
La Familia Cortez Restaurants' Mi Tierra Salsa Verde Salsa
Cariño Cortez & Michael Cortez - San Antonio, Texas
The family of Pedro Cortez - entrepreneur, restaurateur and savior of San Antonio's Market Square - committed themselves to preserving the recipes that have been in the family since 1941, when the patriarch opened his first eatery, Jamaica #5, and eventually Mi Tierra. Over the years, Pedro's sons and grandsons have combined traditional Mexican cooking techniques with the latest culinary advancements to safeguard Pedro's process, ingredients and legacy. The family is intent on sharing this tasty legacy with customers near and far with Mi Tierra Salsa Verde – a secret mixture of oven roasted tomatillos and a blend of spices that create a tangy salsa great for enchiladas and more. Like they say, "salsa by choice, not by chance."
The judges included Jeff Thomas, Senior Vice President and General Manager, Central Texas Region; Suzanne Wade, Corporate Communications Officer; Jorge Elizondo, Group Vice President, Customer Insights; Chef Scott Tompkins, Senior Recipe Developer and Technical Food Advisor; and Winell Herron, H-E-B Group Vice-President of Public Affairs, Diversity and Environmental Affairs. Judging criteria included product quality, marketability and readiness for production as well as the makers' suitability as retail suppliers.
The 2017 Quest for Texas Best competition drew 565 entries from more than 200 towns across the state. Through two qualifying rounds, H-E-B Business Development Managers judged submissions on taste and flavor, customer appeal, value, uniqueness, market potential and differentiation from current products at most H-E-B stores.
Among the finalists were nine entrepreneurs from the Austin area; five from the San Antonio and West Texas areas; two from the Dallas area; eight from Houston and one from the Rio Grande Valley.
H-E-B Primo Picks invites customers to enjoy products that are unique, delicious, and possibly new to their palates. As part of H-E-B's commitment to providing local product options, H-E-B is the single largest retailer of the GO Texan program with 908 own brand items with the GO TEXAN watermark in stores throughout the Lone Star state.