New Orleans Flooding and Pumping System Crisis By the Numbers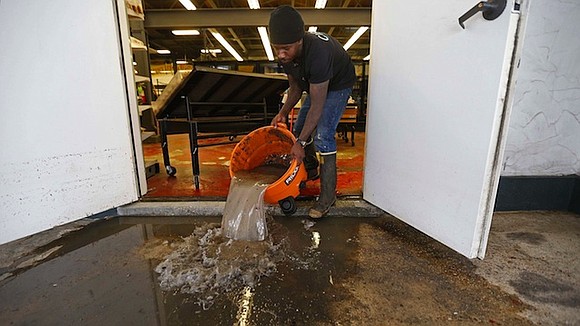 4 of 5 power turbines out of service
The problems continued piling up for New Orleanians throughout the week.
A small control-panel fire late Wednesday took out one of four turbines that power the city's oldest, strongest pumps, the mayor said. The other three turbines had been offline for weeks or months for repairs. A fifth turbine has been pressed into action to operate the oldest pumps, but only 38 of the 58 available pumps can be run at one time, city officials have said.
It all means the drainage capacity in the oldest part of the city, including the French Quarter, essentially has been cut in half. (Pumps in the newer parts of New Orleans largely run on commercial or diesel power and are chugging along, though a few are out of service for routine repairs.)
City officials late Thursday began testing repairs to the turbine that broke the previous night, the city said in a news release.
"The repair has been successful as of last night," Landrieu said Friday, adding that electricians were "low-loading" the turbine to test it before putting in back into use, perhaps within a matter of hours.
26 generators on the way
Meantime, six of 26 generators that officials ordered in light of the system failures had arrived, though it could take several more days to configure and install them, the mayor said. A dozen more generators were due to arrive Friday, with the final eight arriving Sunday, he said.
The generators "will stay with us through hurricane season, even after those two turbines get back online," Landrieu said, adding that even when they're in place, "there will continue to be some risk" and the system will still not be "what we need in the event of a deluge or a major rain event."
With the city's pumping capacity weakened and a new round of severe weather threatening, Gov. John Bel Edwards on Thursday declared a state of emergency, and some city schools closed Friday for a second day.
Sandbags will be available Friday afternoon for property owners who want to block rising water, Landrieu said, and police have stationed barricades or high-water vehicles at 20 low spots around town to prevent people from venturing into floodwaters and helping those who might.
$2 billion repairs
Ten years after Hurricanes Katrina and Rita, New Orleans in 2015 was awarded $2 billion in grants to fix roads and infrastructure by the Federal Emergency Management Agency. A portion of that money is earmarked for drainage system repairs, CNN affiliate WGNO reported.
Landrieu said this week that those repairs and improvements are still ongoing -- adding that the federal money is just a fraction of the $9 billion experts say is needed to update the system.
"We have an old system that needs to be upgraded," Landrieu said Friday. "This is really what the infrastructure funding in the United States of America is about, not just for our drainage system but for any system in America," including "roads, bridges and those kinds of things."