White House: Jerusalem Embassy Move a 'recognition of reality'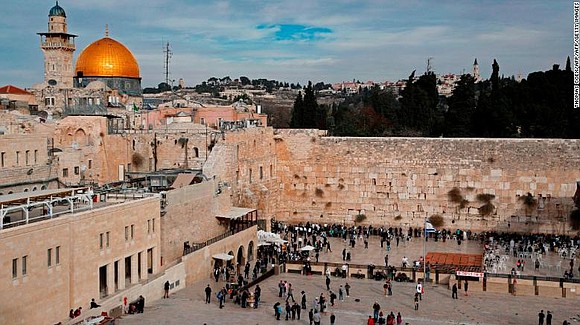 The move is roiling US allies because it bucks international norms and has the potential to destabilize the region. Recognizing Jerusalem as the Israeli capital could upend efforts led by Trump's son-in-law, Jared Kushner, to revive Mideast peace talks; could spark regional protests that might put US military and diplomatic personnel at risk; and could hand a propaganda weapon to militant groups and Iran, analysts say.
Reaction was swift, with Jordan, Egypt, Saudi Arabia and Qatar criticizing the anticipated decision and urging the administration to reconsider.
The European Union foreign policy chief, Federica Mogherini, used a press appearance with Secretary of State Rex Tillerson to make EU displeasure clear. Any action that could undermine an eventual peace agreement between Israelis and Palestinians "must absolutely be avoided," Mogherini said.
On Monday, French President Emmanuel Macron stressed in a phone call with Trump the long-held international position that the status of Jerusalem should be resolved through peace negotiations between Israelis and Palestinians, "and particularly those relating to the establishment of two states, Israel and Palestine, living side by side in peace and security with Jerusalem as their capital," France's Foreign Ministry said in a statement.
The administration itself braced for blowback. State Department security services were told to prepare for unrest at missions overseas and the Pentagon repositioned troops who usually protect embassies to be closer to countries where protests may break out.
White House press secretary Sarah Sanders said the decision was the result of a "very thoughtful inter-agency process," but people familiar with the White House deliberations portray it as being driven by Trump's domestic political concerns.
The President is increasingly worried about losing his political base and insists that he must be seen as fulfilling campaign promises on Israel, part of an effort he's taken in the past few weeks to galvanize conservative support, according to a person familiar with the White House deliberations.
The same source also stated that the President sees the Jerusalem issue as key to placating concerns among his core supporters that he's going soft on his campaign positions.
Previous US presidents promised to move the embassy and then set that pledge aside due to regional concerns and Jerusalem's contested status between Israelis and Palestinians, both of whom claim the holy city as their capital.
Under the Jerusalem Embassy Act of 1995, the US embassy must be moved to Jerusalem or the State Department faces the penalty of losing half its appropriated funds for the acquisition and maintenance of buildings abroad. Every six months, however, presidents can sign a waiver to avoid these penalties on national security grounds.
The resistance from allies reportedly led to some debate within the White House over how to balance the move with the recognition of Palestinian claims to Jerusalem, according to sources with knowledge of the situation.
In the meantime, the President's personal political concerns aren't likely to sway foreign allies that could be directly affected by any fallout from the decision.
"I haven't heard anyone articulate a single national security interest as to why now," said Hussein Ibish, a senior resident scholar at the Arab Gulf States Institute. "It hasn't been done. Everybody knows why it hasn't been done. It's a bad idea and it remains a bad idea."
And while Jerusalem functions as the de facto Israeli capital, David Makovsky, director of the Project on the Middle East Peace Process at the Washington Institute for Near East Policy, said an announcement will kill any chances of a peace deal.
"There is a historic justice in it, in that every president, Democratic or Republican, speaks in the Knesset," said Makovsky, referring to the Israeli parliament. "US businessmen routinely do business with Israelis in their capital. That's been the reality since 1949, but if you say you recognize an undivided capital, you've pre-empted peace negotiations."
Shibley Telhami, a professor at the University of Maryland, said an announcement would serve as propaganda fodder for extremists. "It plays into the hands of every conceivable Islamic militant group. It plays into the hands of Iran," Telhami said, making it harder for Gulf countries that might share security goals with Israel to openly cooperate. "It makes the situation of each one of those governments tougher, let alone what it does to American troops stationed in the region."