Wildfires Continue to Rage Across Southern California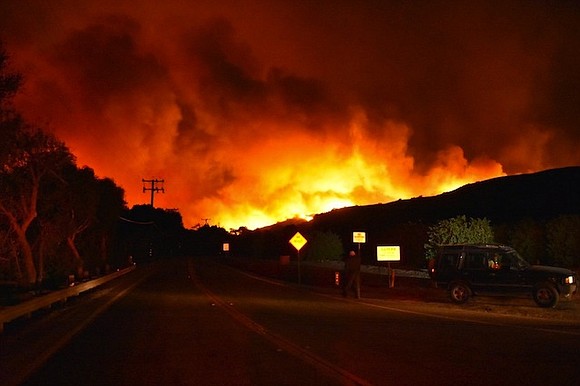 'Everything I have... is gone'
The fire had torn through neighborhoods, razing homes to the ground, reducing them to gray smoldering ashes. It also burned Vista del Mar Hospital, an 82-bed mental health facility in northwestern Ventura, which was fully evacuated two hours before, county fire engineer Richard Macklin said.
Residents who had to evacuate from their homes described tense moments as the fires rapidly approached.
"The embers from the trees were dropping on our cars," said Mary Robinson, a Ventura resident, who fled Monday night. "We're so blessed that we still have a house. I can't believe it, because the fire was so close."
Another Ventura resident, Samantha Wells-Zuniga escaped with her family and watched her entire apartment complex called the Hawaiian Village, burn down.
Speaking through tears, she told CNN affiliate KABC, "We've been watching all these disasters on TV, you really don't think about when it happens to you, and what do you pack in that moment?"
They escaped with a few Christmas presents.
"Now, everything that I have, except for my lovely family, is gone," she said.
The Thomas fire jumped to thousands of acres with startling speed as Santa Ana winds, blowing as fast as 35 to 50 mph, carried its embers. The fire quickly devoured dry chaparral, as the county has been in a period of moderate drought.
Satellite images show how fast it lit up neighborhoods at night.
The winds were part of the season's "strongest and longest" Santa Ana event. The Santa Anas are strong, dry winds that high-pressure systems push from east to west, from the mountains and desert areas down into the Los Angeles area.
A red-flag warning, which is for extreme weather conditions that could cause wildfires, is in effect until 8 p.m. PT Friday.