The Private Bahamas Resort Designed for Plus-size People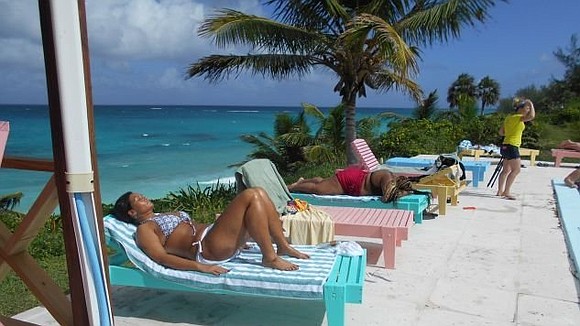 Tamara Hardingham-Gill, CNN
(CNN) -- Tucked away on the island of Eleuthera in the Bahamas, The Resort seems like a typical Caribbean hideaway.
But there's one crucial difference: This property has been specially designed to accommodate plus-size people.
All doorways have been widened, the chaise lounges are built to hold up to 250 kilograms and the beds are reinforced with steel bars.
The end result, according to it's founder James King, is a "safe haven" where overweight people can travel, relax and be free "to do things other people take for granted," such as putting on a swimsuit or going for a walk on the beach "without feeling judged."
King was inspired to set up The Resort 15 years ago, while working at a hotel in Grenada after witnessing a female hotel guest sit on a beach chair "and literally go through it."
The embarrassed woman was subsequently charged $150 dollars for damaging hotel property.
He says he tried to persuade the owners to acquire furniture that was stronger and sturdier, but his suggestions fell on deaf ears.
However King soon discovered that there weren't any suitable fixtures on the market that met the needs of very overweight people anyway.
After putting in years of research, he and his wife decided to take the plunge and set up what they describe as "the world's only plus-size friendly resort" after settling on a property in the idyllic Bahamian island, which is 80 kilometers east of Nassau.
"I thought my biggest challenge would be finding a suitable property -- and although that was a challenge, it wasn't the main one," he says.
"Finding all the fixtures and fittings was the toughest part. Anything that could be adapted and put into a resort to accommodate plus-size people -- it just didn't exist.
"There were no beds available to accommodate those who are plus-size, other than hospital beds.
"Over time I found out that the vast majority of really overweight people have a mattress on the floor in their homes."
Comfort zone balance
The Resort opened in 2015, and while business was slow at the start, it's now booked up through spring 2018 and was recently featured in a documentary on UK channel ITV.
A six-day stay starts at $16,400 including food, which is supplied three times a day through a buffet of a mixture of Caribbean cuisine and American comfort food.
The property, which has 24 rooms and five miles of private beach, only offers group bookings (with a maximum of 28 people) to ensure guests feel completely at ease.
"We started with a more standard approach to bookings, but found that guests would start to relax and feel ready to put on a bikini for the first time, or take off their shirt off for the first time," King adds. "And then more people would check in.
"It tipped the balance of that comfort zone we were trying to create, so we switched to only doing small groups."