Atlanta's Hartsfield-Jackson Airport Restores Power After Crippling Outage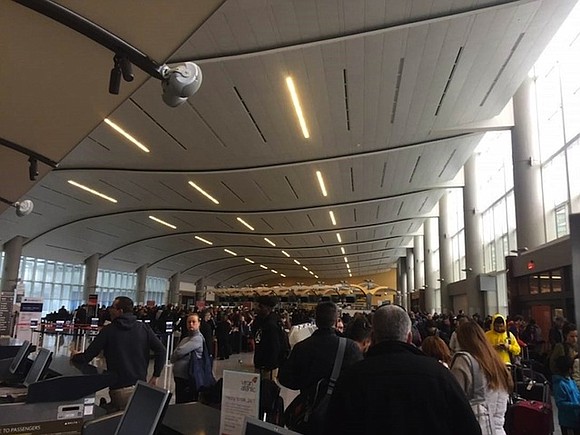 The blackout led the Federal Aviation Administration to declare a ground stop at the airport, preventing Atlanta-bound flights in other airports from taking off and causing inbound flights to be diverted.
Inside the airport, the outage cut power in the terminals, leaving passengers stranded in the dark as they stood in line at gates and security checkpoints. An estimated 30,000 people were affected by the power outage, Reed said.
People used flashlights on their phones to see where they were going, said passenger Heather Kerwin, an Atlanta resident bound for New York.
"There were a few emergency lights on, but it was really dark -- felt totally apocalyptic," she said. "I decided to get the hell out of there."
Some passengers told CNN that airport and airline staff offered no updates as hours passed, leaving people scanning their phones and tablets for information. Stores stopped serving food and passengers were evacuated to alleviate crowding.
The city of Atlanta opened the Georgia International Convention Center and offered shuttle services there for stranded passengers who needed a place to stay for the night, according to the city's verified twitter account. Chick-fil-A supplied food to passengers, although the chain is closed on Sundays.
Trapped for hours
The outage left passengers sitting in planes on the tarmac for hours.
Jodi Green's Delta flight from the Bahamas landed at 1:15 p.m. ET Sunday. Seven hours later, she was still on the plane. Green said the pilot told passengers that other flights that had ran out of fuel were evacuated before theirs. Despite the circumstances, she said, order prevailed.
"People are calm, laughing, joking," she said. "I'm amazed I've been able to sit here and not lose my mind."
CNN's Betsy Klein spent nearly seven hours in a plane on the tarmac, waiting to move. At one point, the crew said 92 planes were stuck on the tarmac, Klein said. People maintained composure as food and drinks ran out, but by hour seven, patience was wearing thin.
When she finally deplaned around 9 p.m. it was sweltering inside the airport, she said. It was unclear who was in charge and people were lying on the floor and on baggage claim belts.
The ground stop led Southwest Airlines to cancel all operations in and out of Atlanta for the rest of the day, spokesman Brian Parrish said. United and American Airlines also suspended operations to and from Atlanta for the rest of Sunday.
Delta, which has its headquarters in Atlanta, canceled more than 900 flights Sunday. The airline urged passengers scheduled to fly on Monday to check their flights.
Correction: A previous version of this story misstated when the FAA grounded flights at Atlanta's Hartsfield-Jackson International Airport. Flights were grounded shortly after the airport lost electricity at 1 p.m. ET.