Suites at Sea: The Ocean's Most Exclusive Rooms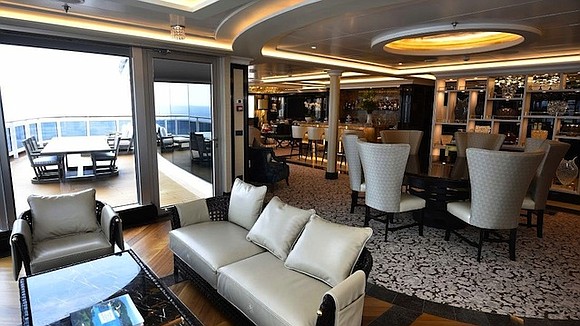 By Chris Dwyer, CNN
(CNN) -- Picture-perfect tropical sunsets, cocktail in hand. Antarctic exploration with penguins just feet away. Cultural discoveries in ancient capitals.
There are plenty of reasons why hitting the waves is the choice of many when it comes to precious vacation time, but another is the often jaw-dropping range of accommodation available at sea.
From palatial suites that would grace a hotel penthouse to historic vessels exuding nostalgia and charm, here are some of the most exclusive, expensive and distinctive ways to travel the world's oceans in serious style.
1. The Regent Suite, Regent Seven Seas Explorer
As bragging rights go, one of the world's largest suites at sea comes in at a cool $10,000 or so a night aboard the Regent Seven Seas Explorer. Launched in the summer of 2016, crystal chandeliers, Versace crockery and Murano glass ceilings show how $450 million was dropped on crafting the ship.
For your money, you get an enormous 4,400 square feet of space, including a custom Steinway grand piano and an in-suite spa with full sauna, while another $150,000 was spent just on one of your beds, the opulent Savoir No. 1.
Unlimited fine dining, spa treatments and on- and off-shore excursions are also included, as well as a personal butler and private car. But at that price you probably won't want to be spending too much time on terra firma.
26-night trip from Rome to Miami, $145,959 per person.
2. Crystal Penthouse, Crystal Serenity
The 1,345 square-foot Crystal Penthouse aboard Crystal Serenity comprises a living room, den, dining area with ocean view, two bedrooms and, naturally, a butler's pantry. There's also an in-room washer and dryer so you can handily get your laundry done.
The master bathroom features a heated marble bench in the glass shower, lest your buns get chilly, while you can also admire the ocean view from your Duravit flotation tub or tune in to your flat-screen TV embedded in the vanity mirror.
You also get extra culinary bells and whistles like in-suite dining, complimentary wine and spirits, not to mention a bottle of Cristal on arrival. If you want to get time with the captain, then an invite to his cocktail party and a private bridge tour is also included.
An eleven-day cruise from Colon to Fort Lauderdale costs $27,605 per person.
3. MY the Wellesley
A completely different nautical experience comes aboard a 12-person superyacht that sleeps twelve in stylish Art Deco interiors. MY The Wellesley is an extension of London's Wellesley Knightsbridge hotel and the lower deck Master Suite features leather paneling, mahogany and bronze details, not to mention the mandatory walk-in closet.
The bathroom has eminently stealable smellies in the form of Hermès amenities, perfect for kicking back in your bath and shower crafted from Arabescato Corchia marble from Italy's Cararra region.
A permanent crew of twelve look after your every need, while there are 3,700 square feet of outdoor space across three decks that include an outdoor cinema, Jacuzzi, jet and water skis, as well as everything you need to dive. For your James Bond villain moment, there's even a cigar humidor and smoking deck.